Varlink, the York based mobile computing and data capture specialist distributor, is delighted to introduce the Trimble YumaTM rugged tablet computer, an extremely rugged IP67 device that brings full office capabilities to the field in an all-in-one mobile package with its Microsoft Windows environment and wireless capabilities. The Yuma is designed to operate in any outdoor environment – no matter how extreme.
The Yuma's rugged tablet package features Microsoft Windows Vista Business, integrated WiFi and Bluetooth connectivity, GPS and two geotag enabled cameras. The Yuma also features a 7" sunlight-readable WSVGA touch screen display.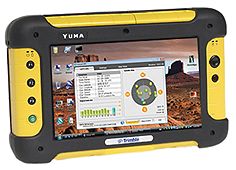 Trimble Yuma
Its lightweight but rugged construction makes it ideal for a wide range of markets including manufacturing, logistics, law enforcement, forestry, military, mapping and other outdoor or service-related applications. With the Yuma the mobile worker has true mobility and flexibility with this all-in-one computer device.
Mike Pullon, Varlink MD, commented "We are very excited to introduce the Yuma to our VAR's, we currently have nothing quite like this in our product portfolio. The Yuma is another successful example of Trimble's determination to source products which are fully able to secure opportunities for our resellers. What customers need to clinch deals often lies on a fine line between form factor and rich functionality. The Trimble family has been extremely well received within our VAR community and we anticipate the Yuma to be a real winner too. In the first week after its launch to our channel, its reception has been incredibly positive and we expect to be sending out a number of evaluation units".
The Yuma is available to order now from Varlink. For details on the Yuma features and capabilities, please visit our website www.varlink.co.uk
End
About Trimble
Trimble applies technology to make field and mobile workers in businesses and government significantly more productive. Solutions are focused on applications requiring position or location – including surveying, construction, agriculture, fleet and asset management, public safety and mapping. In addition to utilising positioning technologies, such as GPS, lasers and optics, Trimble solutions may include software content specific to the needs of the user. Wireless technologies are utilised to deliver the solution to the user and to ensure a tight coupling of the field and the back office. Founded in 1978, Trimble is headquartered in Sunnyvale, California. 
For more information contact:
Sabine Kelly
Marketing Manager
Varlink Ltd
Unit 1, Osbaldwick Industrial Estate
Osbaldwick,
York
YO19 5UX
Tel:  01904 717186
e-mail: sabine.kelly@varlink.co.uk
web:  www.varlink.co.uk