Success of Six Month Trial of Compressed Biomethane Fuel in Camden Cage Street Cleansing Vehicle
In October 2008, Veolia Environmental Services, the UK's largest waste management company, Gasrec, the UK's first commercial producer of compressed biomethane (CBM) fuel, full range commercial vehicle manufacturer Iveco, and vehicle suppliers Stormont Truck & Van, commenced a trial of a CBM-powered street cleansing vehicle in Camden that could drastically reduce society's reliance on fossil fuels.  Funding and evaluation support was provided by Cenex, the UK's first centre of excellence for low carbon and fuel cell technologies.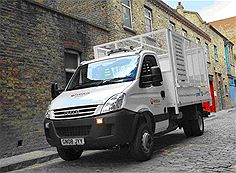 Gasrec Van
Six months on and the trial, which compared the performance, sustainability and reliability of a CBM-fuelled New Daily 65C14G vehicle compared with existing Daily 65C11G vehicles running on compressed natural gas (CNG), has reached its conclusion with notable results.
The key findings are:
• The fuel savings per kilometre of the CBM-powered Cage vehicle compared to the current CNG-powered Cage vehicle is 6%.
• The well to wheel CO2 emissions, which also consider CO2 released into to the atmosphere during fuel production and distribution, show emission savings per kilometre between the CBM and CNG-powered vehicles is 56%.  Typical commercial vehicle industry data shows, when compared to fuel consumption figures for a similar sized diesel vehicle, savings of between 53% and 59% CO2 could be achieved.
• The Iveco Daily CBM powered vehicle showed no reliability issues during the six month trial.
The biomethane fuel is derived from waste sent to landfill and is considered to be carbon neutral since it is produced from recently decomposed material.  By developing a bespoke gas-powered engine, coupled with CBM, the result is a real alternative to fossil fuels.
Veolia is the first waste management company in the UK to establish a working comparison between compressed biomethane, compressed natural Gas and diesel.  Implementing CBM in part of Veolia's street cleansing operations in Camden has enabled a continuous cycle to take place: from waste collection to waste decomposition to biogas production to vehicle fuel – and back to waste collection again as the fuel is being used to collect more waste.
From an operational perspective, the CBM-powered vehicle has proven to be more efficient due in part to the new higher power vehicle, but also due to the improved fuel quality of the CBM when compared with that used in the CNG-fuelled vehicle.  It only requires to be filled up with fuel once a day, lasting for an entire double shift, accepting up to 38kg of CBM, whereas CNG-powered vehicles need to be filled up twice per day.  It also provides better measurement for drivers on how much fuel they are adding and drivers have commented on how much more responsive the CBM-powered Cage was compared with previous CNG-powered Cage vehicles.
Additional benefits that the trial has brought to light are that exhaust emissions are very low in particulates and nitrogen oxides, so have much less impact on local air quality compared to other types of vehicle fuel.  The Iveco Daily CBM vehicle already meets and exceeds Euro 6 emissions legislation, which does not come into force until 2014.
Also, the CBM-powered vehicle has proven to be a lot less noisy than its counterparts, making it ideal for urban settings and particularly for early morning or late night work.
Keith Riley, Managing Director for Technical Services at Veolia, said: "We are very pleased that the trial of CBM has proven to be a success as it has enabled us to realise the potential of the fuel in reducing climate change impacts and contributing to reducing our dependence on mineral fuels.  Of course it was just a pilot scheme over a relatively short period, but it has shown us that the potential is there.  From this trial we can see that there is an opportunity for further development of this type of technology in some of our operations and areas that we can now consider include developing a system to harness the fuel from our own network of landfill sites and seeing if we can work with our partners in utilising the technology amongst our fleet of light goods vehicles."
Richard Lilleystone, Chief Executive Officer at Gasrec, commented: "The gas we use to make the CBM for this vehicle comes from a landfill site in Albury, Surrey, which means it is not depleting fossil resources.  Through creating and selling this fuel product, we recover the latent energy stored in material discarded by society, providing power which is particularly suited to vehicles operating in the urban environment.  We are particularly pleased with the improvements achieved in air quality when using CBM to displace diesel.  Every Local Authority in the UK would welcome reductions of 90% particulate matter, 60% reduction in nitrogen oxides, 50% reduction in sulphur dioxide and even a noise reduction of around 30%."
Nigel Emms, Brand & Communications Director at Iveco UK, added: "Iveco has a lot of experience on natural power using both CNG and CBM with over 4,000 Dailys operating around Europe to-date.  We are committed to this technology and believe it offer significant environmental and economic benefits when operating in urban conditions."
Robert Evans, CEO of Cenex said, "We are very pleased to have supported Camden's innovative trial.  It provides a strong example of biomethane use in a commercial vehicle application.  The independently verified data will be welcomed by organisations considering switching their fleets to biomethane or other low carbon options.
Andrew Smith, Group Aftersales Director of Stormont Truck & Van, stated: "From an operational perspective this vehicle has performed exceptionally well and has been 100% reliable. The routine maintenance and test measurements were completed at our Dunstable Dealership where we worked closely with Veolia, Gasrec and Iveco in ensuring that the test results were accurate and used our expertise and knowledge of the CNG Daily as a comparison and the CBM Daily showed considerable improvements against the older model."
-ends-
Enquiries:
Veolia Environmental Services
Dan Lester, Communications Manager (London)      +44 (0) 207 812 5035
Gasrec        
Richard Lilleystone, Chief Executive                        +44 (0) 20 7436 6805
Camden Council
Lynn MacDonald, Senior Press Officer                   +44 (0) 20 7974 5238
Iveco
Nigel Emms, Director Brand & Communication        +44 (0) 1923 259 513
Cenex
Sue Glanville, Say Communications                         +44 (0) 20 8971 6400
Stormont Truck & Van
Andrew Smith, Group Aftersales Director               +44 (0) 1732 833 005
Notes to Editors
Technical Notes
• The street cleansing vehicle used for the trial in Camden was an Iveco Daily 65C14G, built on a 3,750 mm wheelbase and supplied by Stormont Truck & Van, mounted with a lightweight Cage tipper body.  It was used by Veolia to complement waste and recycling collection rounds as part of a fleet of more than 40 vehicles which support the 200,000+ local residents in the London Borough of Camden.
• The Daily 65C14G benefits from a 3 litre engine which is capable of producing up to 136 hp between 2,730 and 3,500 rev/min, and up to 350 Nm of torque between 1,500 and 2,730 rev/min.  It is built on Iveco's Daily production line in Suzzara, Italy, as a dedicated natural gas vehicle and is subjected to all of the same build-quality standards as a line-built diesel type.
• As with all new Daily vehicles running on natural gas, this latest vehicle offers a range of up to 380km and is designed to deliver excellent reliability, safety and low running costs.  It is eligible to pay a reduced rate to enter London's Congestion Charging zone and its reliance on natural gas means it is immune to oil price fluctuations.
• One tonne of CBM is equivalent to 1,200 litres of diesel, which is sufficient to fuel a 44 tonne heavy goods vehicle for an entire week.
About Veolia Environmental Services
Veolia Environmental Services has a seven-year contract with Camden Council to provide refuse collection, recycling and street cleansing services to all residents in the borough.  It has also recently won a seven-year extension to the contract which will commence in April 2010.
Veolia Environmental Services is the UK's leading waste management company employing circa 12,500 people nationwide and serving over 16 million residents. Globally, the company employs over 100,000 people and serves more than 45 million inhabitants across 35 countries.
Veolia Environmental Services is the only worldwide provider of a full range of services for handling solid and liquid waste. It provides waste management and logistics services, as well as materials recovery and recycling. Veolia Environmental Services generated revenue of €9.2 billion in 2007.
The company is part of Veolia Environnement, the world leader in environmental services. With more than 300,000 employees, Veolia Environnement is a global operator providing tailored solutions to meet the needs of municipal and industrial customers in four complementary sectors: energy management, freight and passenger transportation water and waste. Veolia Environnement recorded revenues of €32.6 billion in 2007.
Further information can be obtained by visiting the websites:
www.veolia.co.uk
www.veoliaenvironnement.com
About Gasrec
Gasrec is a producer of liquid methane fuel utilising gas generated by the decomposition of biomass. It obtains its gas supply from existing landfill sites or from controlled digestion of the biomass by-products of food manufacture, retail and other industries. In creating and selling the fuel product, Gasrec recovers the latent energy stored in material discarded by society to power vehicles, especially those operating in the urban environment, or to generate electricity or CHP (Combined Heat and Power).
The generation of power from landfill sites in the UK is tried and tested, with over 300 UK landfill sites generating approximately 1,700 MW/h each year. However, a proportion of sites continue to flare unused gas as hitherto their development was not economically viable, thereby wasting the energy potential of the gas.
Gasrec has identified a clean, efficient use for this gas in the production of LBM (Liquid Bio Methane), a commercially competitive and environmentally sound fuel that can be directly substituted for both CNG (compressed natural gas) and LNG (liquefied natural gas) for use in gas-powered or dual-fuel vehicles, or to generate electricity or CHP (Combined Heat and Power).
About Iveco 
Iveco designs, manufactures, and markets a broad range of light, medium and heavy commercial vehicles, off-road trucks, city and intercity buses and coaches as well as special vehicles for applications such as fire fighting, off-road missions, defence and civil protection.
Iveco employs over 24,500 people and runs 28 production units in 16 Countries in the world using excellent technologies developed in five research centres. Besides Europe, the company operates in China, Russia, Australia, Argentina, Brazil, and South Africa. More than 4,600 service outlets in over 100 Countries guarantee technical support wherever in the world an Iveco vehicle is at work.
About Cenex 
Cenex is a delivery agency established with support from the Department for Business, Enterprise and Regulatory Reform to promote UK market development and competitiveness in low carbon and fuel cell technologies for transport applications. Cenex's principal focus is on catalysing market transformation projects linking technology providers and end users. As part of this work, it runs a number of programmes for UK national and regional government, including the Low Carbon Vehicle Procurement Programme and the Low Carbon and Fuel Cell Technology Knowledge Transfer Network.
Cenex will host a two day conference on biomethane between the 3‐4th June 2009 at Loughborough University's Holywell Park. The UK National Biomethane Conference is an opportunity for professionals to network with key contacts involved in the production and use of biomethane and enhance their knowledge on how biomethane offers a unique opportunity to integrate waste management solutions with the production of a clean burning, low carbon transport fuel. For further information about the event visit: http://divacreative.com/biomethane
About Stormont Truck & Van
Since the introduction of the original CNG Daily into operation with London Borough of Camden in October 2003, we have worked extremely closely with Veolia and Iveco and the improvements from the original vehicle are clearly evident for all to see
Part of the Clipper Group of Companies, Stormont Truck & Van are a full range franchised Iveco Distributor, with depots at Tonbridge, Brighton, Dunstable and Northampton.
 
Further information can be obtained by visiting the website: www.stormonttruckandvan.com