o £100,000 on insurance and over £250,000 spent with couriers annually now saved, with organisational efficiency vastly improved
o Far faster processing of up to 10,000 contracts each day from direct sales activities nationwide means blue chip clients generate revenue quicker
o Return on investment in hardware and software expected within 16 months
June 2, 2009 – Eastman Kodak Company today announced that The Cobra Group plc, a global direct sales and marketing company, has installed Kofax document capture technology and 90 Kodak i160 departmental scanners throughout the UK & Ireland to automate the whole process of contract collation and processing by staff at its head office from contracted marketing companies in the field.  The system has been installed by Kodak reseller, Capital Capture.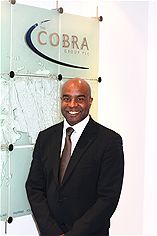 Emmanuel Marshall, IT project manager, The Cobra Group
Founded in 1988, The Cobra Group provides its clients direct sales support operating through a network of 120 independent companies nationwide.  Specialising in the financial, energy, pay TV, chaity and telecom sectors with clients such as Talk Talk, The Cobra Group's network has representatives on the ground who sell on behalf of clients by attending exhibitions or events, selling door-to-door or at high traffic locations like train stations, shopping centres and so on. 
Emmanuel Marshall, IT project manager, The Cobra Group, says, "Our business model is to support clients who need to generate a high volume of quality sales quickly.  So, once we're hired, we engage local marketing companies based in the area to be targeted, ensuring representatives in the field are fully product trained and then managing all the back-end administration required to convert the contracts signed to a customer who can then be billed by our clients directly."
Historically, this process would have involved each local marketing company collating signed contracts for the day, couriering them to The Cobra Group's head office in London, with quality checks then carried out, prior to data captured from the forms being uploaded to clients' IT systems. 
The process was time consuming, prone to errors and created a huge administration and cost burden. First, The Cobra Group processes between 7,000 and 10,000 contracts each day which comprise one or two page documents.  As a result, the company was conservatively spending at least £250,000 annually on couriers, with a staff of eight needed to open packages and distribute the contracts for processing. 
Second, with so many documents being sent, the scope for paperwork to go missing was huge and required The Cobra Group to take out insurance which, over a four year period, had increased from £40,000 to £100,000 per annum.  And even if there was a claim, it could take anywhere up to a year for money to be recouped. 
Marshall explains, "Frankly, with so many packages being sent around the UK by courier, at least one would be lost each year.  The business had to indemnify against consignments going missing as field representatives contracted to the marketing companies had to be paid irrespectively. Our expectation was that, over time, insurance charges would actually exceed courier costs." 
Third, the loss of contracts could have a negative effect on end-user customers as they would have completed paperwork with a field representative for a new service which would then take ages to commence, as copies of paperwork would have to be found and resent. 
Fourth, contracts were also sent onto various third parties for credit checking, data inputting and file conversion which could take anywhere between three and six weeks.  The impact for The Cobra Group and its clients was that errors occurred, with Cobra ultimately losing control of the quality of data provided to clients. 
Marshall adds, "The knock on effect for our clients was the loss of revenue because of all these issues and a significant lead time between the signing of a contract by a consumer and the sale starting. The process was untenable and we set about looking at how a new document management solution could help."
After approaching five firms, The Cobra Group selected document and data capture specialist, Capital Capture, who has deployed a scanning solution at each marketing company comprising Kofax software, along with a Kodak scanner, Dell PC and Dell monitor. 
Marshall says, "There was a world of difference between Capital Capture and the rest.  They grasped that Cobra is a business working with a network of third party companies who are independent.  They had a track record of success which was demonstrable and experience of working on implementations which were even more complex than ours.  It was a no-brainer to go with them."
The Kofax Capture system has been installed at Cobra's Head Office comprising Kofax Capture Network Server (KCNS) which the 120 marketing companies then connect to using Kofax Capture client software.  All traffic between the central server and client PCs is encrypted and secured using https and SSL encryption to ensure that all information is completely secure during transmission.  The marketing companies scan contracts and transmit them electronically to Cobra's Head Office. On arrival the Kofax Capture application automatically checks the images against samples to make certain the correct forms have been scanned and are of suitable quality for data entry. If all the images pass this quality check, an e-mail is sent to the marketing company confirming receipt. If not, they are subsequently returned to the local Kofax application at the respective local marketing company, along with e-mail informing the administrator that attention is required.
Capital Capture recommended installing Kodak's departmental i160 duplex scanners at each marketing company as they are simple to use and easily handle the volume of contracts to be processed.  Designed to cope with up to 3,000 pages per day, the i160 scanners can scan both sides and feature Kodak's Perfect Page imaging technology to ensure sharp, clean images without the need to adjust settings and rescan.  Marshall says, "The Kodak scanners are excellent. I was surprised at their size given the performance. They're much smaller than I expected and sit on desks really easily."
While the technology was installed at each marketing company by late December 2008, The Cobra Group has adopted a staggered approach to bringing clients onto the new system.  This has allowed thorough testing and tailoring of the system and training of internal staff. 
The software has been bespoke configured by Capital Capture to meet the group's needs, with the scanners locked down at each location so they only work on Cobra related projects. Marshall adds, "Some marketing companies we work with are based in the same office location so it made no sense to deploy multiple scanners in one building.  As sales have to be kept separate, we've worked around this by giving each marketing company a PIN which allows them to log in and send their respective client contracts only, with an email then sent to confirm receipt."
Chris Williamson, senior consultant, Capital Capture, says, "This customisation has involved adding extra functionality in the administration and scan modules so that The Cobra Group reduces the management overhead of looking after all the remote marketing company sites, with users guided through the scanning process with an easy to use interface.  So, for example, The Cobra Group can centrally link the marketing companies working on any given campaign so that the system will only accept their signed contracts when scanned."
Today, when paper contracts are scanned locally they are then available to Cobra Group staff at their head quarters seconds later, with a dedicated client folder populated on its network.   Once contracts have been checked, they are zipped and sent to the marketing company electronically and returned within 24 hours with all the data from the form extracted.  Marshall says, "I didn't want to go down an OCR route as it's too expensive, not reliable enough and, given we have to do manual checks on data anyhow, plus our data capture partner gets things right 99.8% of the time, there was no point."
The commercial benefits from this new contract management approach have been immediate. Staff at Cobra's head office are no longer required to do dull and unproductive work such as opening mail or hunting for missing documentation, expenditure on couriers has been reduced along with the associated insurance costs.  Given this, the investment in the hardware and software solution is expected to be realised within 16 months.  Most importantly, contract information is managed far quicker so that Cobra clients can get new customers using their services far faster, with the corresponding billing occurring quicker and revenues increased which over a course of a year equates to hundreds of thousands of pounds. 
The system has bought a range of other advantages.  Data Protection has been markedly improved as the electronic document management system only allows authorised users access to contract information.  Additionally, The Cobra Group has been able to remove the numerous boxes of contracts stored in boxes at their head office which contain customer sensitive data, with off site storage now being phased out. 
The system has also meant a radical change in how administrators at marketing companies work as they no longer have to spend lots of time bogged down in processing contracts.  This has freed them to focus on far more important commercial activities such as recruiting representatives to drive business growth. 
Furthermore, with so many partner firms and a range of clients – all with specific service requirements – the new system has allowed better overall account control.  Marshall explains, "If you take our charity clients, for example, we're legally only allowed to run campaigns to generate new donors for a set amount of time in any given area.  So, the system won't allow forms to be sent after a certain point as we manage the campaign codes from London."
This central control has also meant that The Cobra Group is able to help support everyone using the new system by undertaking remote monitoring using Cisco's WebEx Remote Access online monitoring software.  So, should an administrator have an issue scanning a batch of documents, Capital Capture can quickly log in to see what the issue is and resolve it fast. 
Moving forward, The Cobra Group is considering deploying the document scanning and capture solution to companies on mainland Europe to replicate the success of the UK & Ireland project. 
David Whitton, Kodak's UK sales manager, says, "Capital Capture's project with The Cobra Group demonstrates how a systems integrator can add tangible commercial value by combining industry leading software, with robust and high performance imaging devices to solve the headaches associated with managing documents throughout a geographic disparate group of companies."
- Ends -
About Capital Capture
Capital Capture is a UK provider of document and data capture solutions and services, software support and scanner maintenance.  With hundreds of clients in the insurance, finance & banking, legal, government, telecoms and other markets, it has a consultative-led approach which enables organisations to reduce costs, improve business process and ensure compliance by controlling information from point of entry to archive. For further information about the company, please visit the web at www.capitalcapture.com
About Kodak
As the world's foremost imaging innovator, Kodak helps consumers, businesses, and creative professionals unleash the power of pictures and printing to enrich their lives. To learn more, visit www.kodak.com, and our blogs: 1000words.kodak.com, and 1000nerds.kodak.com.

Kodak corporate news releases are now offered via RSS feeds. To subscribe, visit www.kodak.com/go/RSS and look for the RSS symbol. In addition, Kodak podcasts are viewable at www.kodak.com/go/podcasts. Podcasts may be downloaded for viewing on iTunes, Quicktime, or other PC-based media players. Users may also subscribe to Kodak podcasts via the iTunes Store by typing "Kodak Close Up" in the search field at the top of the iTunes Store window.  Kodak is a trademark of Eastman Kodak

Contacts:
Kodak Document Imaging, UK
Jonathan Tripp
Marketing Manager UK & EAMER
Tel: +44 (0)1442 846633
E-Mail: jtripp@kodak.com
Web: www.kodak.com/go/docimaging
Tom Herbst PR Limited
Tom Herbst
Director
Tel: +44 (0)207 274 9937
Mob: +44 (0)7768 145571
E-Mail: tom@tomherbstpr.co.uk
Capital Capture
Dale Wardill
Sales Director
Tel: +44 (0)207 314 7700
Email dale.wardill@capitalcapture.com
Web: www.capitalcapiture.com