Vestby municipality offers over 2000 students and teachers enhanced PC functionality with desktop virtualisation technology
London, United Kingdom – 2nd June 2009, Wyse Technology, the global leader in thin computing, today announced that it has completed installation of over 1,000 zero clients in Vestby municipality, Norway. The new infrastructure is now fully operational and students are regularly using the new thin computing system. In addition to the technological benefits Vestby is also benefitting from reduced power consumption after replacing the existing 650 PCs previously used in the schools.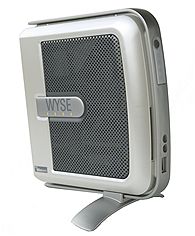 Wyse thin client
Vestby local authority, having realised that the existing IT systems at local schools were becoming costly to maintain and impractical to keep up to date, took the decision to invest NOK5 million (£500,000) in new IT infrastructure in 2008. This investment allowed them to significantly widen access to high quality IT for learning and reduce maintenance costs, freeing up budget to invest elsewhere.  The key selection criteria centred on finding a system that could deliver the same quality of access to data and applications as a PC while being low maintenance and future proof.
Teachers in Vestby have been using Wyse thin clients for their own administration and course preparation work since 2003 providing the IT team with direct experience of the robust and simple management of thin client computing. With the wider rollout in schools across the municipality Wyse provided a system that was capable of handling the data, multimedia and application accessibility required by Vestby's school children.
"The Wyse solution provides each student with a unique personal profile, allowing them to access specific applications and course work online. It also allows them to access their profile from home, making home work more productive." Lars Peter Lilleng, ICT Manager for Education and a teacher in Vestby commented, "the project has had a great environmental impact as well, in a recent review of power consumption for the municipalities schools it was estimated that the switch to thin computing has delivered an 80% reduction in power usage and cut the annual power costs by over £17,500."
"This roll out in Norway is part of an ever growing trend in the education sector. As education evolves to meet the needs of today's students the technology involved has to evolve as well," states David Angwin, Director of Marketing for EMEA at Wyse. "With standard PC based systems you are faced with ageing desktops, viruses and equipment misuse that can lead to teachers spending more time 'fire fighting' than teaching. With Wyse thin computing solutions they have dramatically simplified ICT support and benefit from significant financial savings."
-Ends-
About Wyse
Wyse Technology is the global leader in thin computing-based virtualization software and hardware solutions.  Wyse and its strategic partners, including, Citrix, IBM, Microsoft, Novell, VMware, and others deliver the innovative hardware, infrastructure software, and services that formulate the benefits of cloud computing, virtualization and Green IT.  These thin computing solutions allow consumers, public and private enterprises to access the application information they need, but with better security, manageability, and at a much lower total cost of ownership than a PC.  Wyse is headquartered in San Jose, California, with offices worldwide.
 
For more information, visit the Wyse website at http://www.wyse.co.uk or call 0845 604 0038 (UK only) or
+44 (0) 118 934 2200
All brands and names mentioned herein are trademarks of their respective holders.
For further information contact:
David Angwin
Director of Marketing - EMEA
dangwin@wyse.com
00 44 118 982 8306
Mattias Bjorkman
Country Manager – Nordics
mbjorkman@wyse.com
00 46 733 17 47 00