Leading Location Intelligence Solution Features Enhanced Data Access, New User Interface and Open Source Support
Windsor, UK — 3rd June, 2009— Pitney Bowes Business Insight, the leading global provider of location and communication intelligence solutions, today unveiled MapInfo Professional® v10.0, the latest version of the company's flagship application for business mapping and analysis. With more than 80 percent of corporate data including a location component, MapInfo Professional provides organisations with the ability to visualise and analyse information to secure valuable insights and tremendous advantages over their competitors, which is critical in today's economic environment.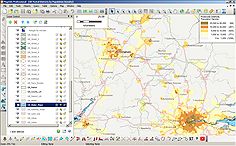 UK post codes by population density
A powerful and user-friendly mapping and location analysis application, MapInfo Professional 10.0 now includes a redesigned intuitive user interface, access to PostGIS, an open source database, and a built-in support for Layered PDF generation. The end result is a cost-effective solution that enables organisations to gain optimal value from their data when making decisions about managing inventory, allocating resources and communicating with customers.
"MapInfo Professional is a truly ergonomic technology, and facilitating data access has always been its strong suit.  So support of PostGIS in MapInfo Professional 10 will prove invaluable in joined-up working and the benefits which come from seamless collaboration," said John Shurvington, GIS Manager, Portsmouth City Council, one of a number of key customers involved in beta testing the new upgrade.
"The 'piece de resistence' in MapInfo Professional 10 for Portsmouth is, without doubt, Layered PDF support – it's simply life-changing!  The ability to have a 'control centre' approach to maps; to look at layers as needed and to share files beyond MapInfo users is both invaluable and liberating. Further, the print to PDF function in MapInfo Professional 10 brings real mobility into play, allowing interactive access to the map layers by anyone who needs them. 
"Overall, the advancements in usability in MapInfo Professional 10 go significantly further in delivering the definitive tool for location related tasks.  PBBI has listened to our feedback and effectively integrated a number of important capabilities into MapInfo Professional 10.0 which are very welcome indeed!"
Benefits of MapInfo Professional 10.0 include:
• Greater Ease of Use – A more intuitive user interface and data sharing via layered PDF enables organisations to more easily and efficiently create and share customised maps, resulting in greater efficiency and time savings.
• Cost savings – MapInfo Professional 10.0 supports PostGIS, an open-source database, providing users with a cost-effective, open source alternative.
• Enhanced Data Access – Organisations can tap into even more data including Microsoft SQL Server 2008, giving users even greater flexibility and continuing access to multiple forms of data.
"As we celebrate a major milestone with the release of MapInfo Professional 10.0, Pitney Bowes Business Insight remains committed to helping organisations gain the most value from their data when making business critical decisions. We solicited direct input from hundreds of customers to ensure that MapInfo Professional 10.0 best meets our customers' needs," said Michael Hickey, president, Pitney Bowes Insight. "In today's challenging economic conditions, it's vital that organisations have the necessary tools when making decisions about allocating resources, managing inventory or communicating with their customers. MapInfo Professional 10.0 provides a cost-effective, easy-to-use solution that can help organisations make forward-thinking decisions and remain competitive in today's world."
Ends
Further information please contact:
Sue Glanville/ Sophia Henri
Say Communications
Tel: +44 208 971 6423
Email: sglanville@saycomms.co.uk
shenri@saycomms.co.uk
About Pitney Bowes Business Insight
Pitney Bowes Business Insight (PBBI), a division of Pitney Bowes Software Inc., provides a unique combination of location and communication intelligence software, data and services that enable organisations to make more informed decisions about customers, competition and market expansion.  Pitney Bowes Software is a wholly-owned subsidiary of Pitney Bowes Inc. (NYSE – PBI).  With the industry's most comprehensive set of solutions for maximising the value of customer data, PBBI provides the tools required to more effectively locate, connect and communicate with customers in today's global markets. Leading organisations rely on PBBI solutions to increase the accuracy and effectiveness of customer information delivery and drive profitable growth. Visit www.pbbusinessinsight.com and www.pb.com for more information.