One Bus. Three Dates. Three Locations.
19th June, 2009 - ONI, Telephonetics VIP and Cisco take to the road to showcase the latest technologies in Unified Communications and Speech Self Service solutions.  This is the first time ONI, Telephonetics VIP and Cisco have come together to help customers understand true business transformation.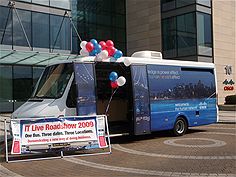 Cisco Network on wheels
Cisco Network on wheels is a 25' van equipped with the latest Cisco networking technologies. It has been fitted to create a mobile solutions showcase, so businesses can see a range of communication and Speech Self Service technology in action. 
There are three dates and three locations, The Belfry Birmingham 30th June, Newmarket racecourse 2nd July and The Kendleshire Golf club, Bristol 7th July 2009, to find out more go to www.telephoneticsVIP.co.uk/events.  The day will be educational and will give businesses such as Housing Associations, Financial Services, Retail, Manufacturing and more the chance to pick up hot tips on how to achieve customer service excellence, greater productivity and how to reduce operating costs.
Kevin Kivlochan, Sales and Marketing Director for ONI, comments "IT Live Roadshow 2009 is the first of its kind and should most definitely not be missed.  We have teamed up with two of our top Partners, Cisco and Telephonetics VIP to bring innovative technology that you can see working live, and give businesses ideas and tips on how to work smarter and more efficiently."
Mark Holmes, Director of Sales for Telephonetics VIP, comments "This is a great opportunity for businesses interested in, or wanting to learn more, about our Speech Self Service solutions and how we can help add value while reducing operational costs.  Our Partnership with ONI gives customers the chance to see a wide range of communication solutions working and integrating together providing businesses a true one-stop-shop solution."
David Critchley, Director, Commercial & Small Business for Cisco, UK and Ireland comments "In today's economy it is even more important for businesses to look at new ways of conducting business to help drive customer service, greater productivity and cost reduction.  The roadshow will allow customers to see how technology can help transform business processes by leveraging the power of the network."
- ENDS -
About Telephonetics VIP
Telephonetics VIP, which is part of Telephonetics plc, is a leading provider of speech recognition and voice automation solutions.
Offering diverse automation solutions and deployed across 20,000 telephony channels, Telephonetics VIP uniquely processes over 35 million minutes of speech recognition per annum, via its carrier-class resilient platform in both hosted and customer premises solutions.
Drawing on over 15 years of understanding how people interact over the telephone, Telephonetics VIP offers a range of customer-focused solutions, covering even the most demanding environments, and delivering real business benefits to all its customers.
With innovative solutions for speech self-service, mobility, outbound messaging, emergency notification and business continuity Telephonetics VIP has built a large customer base. This includes 80% of the major UK multiplex cinemas, over 50% of the NHS acute health trusts, more than 50 local councils and emergency service operations, along with significant financial and legal company representation.
TELEPHONETICS PLC
Telephonetics plc (TPH.L) is a UK-based speech recognition solutions company.  The Group was listed on the London Stock Exchange's AIM market in July 2005.
About ONI
ONI is an innovative and highly experienced network and communications integrator based in the UK. As market leaders in many fields, ONI provides integrated voice, video and data solutions that increase business efficiency, improve customer service and reduce business costs.
As a recognised Cisco Gold Partner and Cisco Unified Communications specialist, ONI has the ability to anticipate and understand the challenges facing customers today. ONI can provide a proven level of technical expertise and an exceptional level of customer service, unrivalled by anyone else in the network industry.
About Cisco Systems
Cisco, (NASDAQ: CSCO), is the worldwide leader in networking that transforms how people connect, communicate and collaborate. Information about Cisco can be found at http://www.cisco.com. For ongoing news, please go to http://newsroom.cisco.com.
# # #
Cisco, the Cisco logo and Cisco Systems are registered trademarks or trademarks of Cisco Systems, Inc. and/or its affiliates in the United States and certain other countries. All other trademarks mentioned in this document are the property of their respective owners.
For further information please contact:
Telephonetics VIP
Elisa Tudisco
Channel Marketing Manager
+44 (0)1442 242 242
elisa.tudisco@telephoneticsvip.co.uk