Ben Lee and Linzi Stoppard are FUSE, the rock prince and princess of the violin world.  Today at the InterContinental London Park Lane they have signed a global record deal with edel Record.
FUSE are original and unique - they aren't classical violinists, they are rock violinists, pioneering a new unique musical sound for a traditionally classical instrument.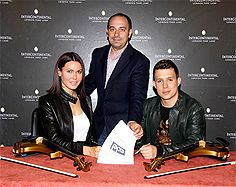 FUSE Sign Global Deal
They are putting the finishing touches to their 12 track debut album "Glorious", co-produced by FUSE.  This is the first time in a long time a UK string act has signed a major deal to a pop/rock label through "traditional" channels.
Ben and Linzi met in 2006.  Having both had successful live performance careers, they decided to merge their talents and form FUSE, a one-of-a-kind, glamorous rock, boy-girl electric violin duo.
When Ben and Linzi set out to break the mould and push the boundaries they realised they had two choices: to be followers or to show the way with initiative. The latter was the only real option.
While following their instincts the band recognised their competition had all failed to conquer the same conundrum - how does a new violin act avoid sounding exactly the same as the one before?
Other string acts call themselves 'electric', but often record using acoustic instrument or with no effects limiting them sonically. This narrow path leads to most violin / cross-over string acts covering the same music again and again and in the same style.
Not so with FUSE – the answer to the conundrum was a fresh progressive approach using the most up to date techniques, original guitar valve amps, sonic processors and of course their bespoke gold Bridge electric violins - the FUSE sound was born.
More importantly through these original methods the instrument comes alive like never before opening up a whole new genre of music – ROCK!
Edel is a major player in the music industry that can proudly boast a roster of legendary artists including Stevie Wonder, The Police, Marvin Gaye, Prince, Deep Purple, The Jam and Kiss.
Linzi Stoppard said: "We're proud and excited to have the platform we've always wanted to help our music reach a wider audience.  It's been a while in the making and this deal recognises our hard work and belief that our innovative style will light the way for a new generation of rock violinists."
Ben Lee said: "After touring and recording for other bands it's great to get my own sound out there."
NOTES TO EDITORS:
FUSE Online: http://www.myspace.com/fusemusic
For further information on FUSE contact Neil Reading at Neil Reading PR, neil@neilreadingpr.com, +44(0)20 72877 7711
FUSE Global Management:
Will Stoppard Management, Will Stoppard, will@ws-m.co.uk, +44(0)20 3008 7355
Duroc Media, Simon Porter, simon@durocmedia.com, +44(0)1895 810831
Production:
Deep Springs Entertainment, Will Stoppard, will@deepsprings.co.uk, +44(0)20 3008 7355
Duroc Media, simon@durocmedia.com, +44(0)1895 810831
Note to Sub Editors: Please note that the name "FUSE'' should always appear in capitals, as above.