Enhanced 'plug & play' device allows customers to leverage new communications technology while reducing operating costs and extending legacy infrastructure
9th July 2009, Milton Keynes, UK – Aculab, a leading provider of enabling technology for the global communications market, today announced the general availability of its new ApplianX IP Gateway, a resilient, single-purpose, easy-to-manage, plug-and-play device.  The ApplianX IP Gateway has been enhanced to support a multitude of capabilities and protocols. It gives enterprises, SMBs, and service providers a cost-effective, intuitive and flexible device to deliver next generation communications solutions through existing infrastructure.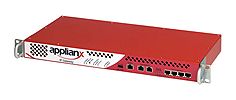 New ApplianX IP Gateway from Aculab
"One of the biggest challenges our customers face is the need to leverage the myriad of benefits associated with IP communications while minimising capital expenditures," explains Faye McClenahan, Head of Strategic Marketing for Aculab. "This version of the ApplianX IP Gateway offers businesses and service providers a flexible, cost-effective and compelling solution.  It not only satisfies their evolving communications requirements but also enables customers to extend the lifecycles of their existing equipment and take a phased approach to VoIP and unified communications adoption."
Highly regarded for its ease of use and low administrative costs, the ApplianX IP Gateway supports a wide range of international protocols, making the device suitable for worldwide deployment in both enterprise and service provider networks. A number of leading solution providers, including Avaya and Cisco, have already certified ApplianX to allow integration with legacy TDM-based PBXs.
The latest version of the ApplianX IP Gateway includes enhancements, such as support for Diversion, Transfer, Message Waiting Indicator, Route Optimisation, Three Party and Hold functions over SIP, Q.SIG and DPNSS protocols, making it the first gateway to deliver these capabilities to both SMB and enterprise customers.
Further improvements include a wider range of routing options for both SIP-to-TDM and SIP-to-SIP conversions, as well as improved load balancing between endpoints on a round-robin basis, ensuring that calls are automatically routed away from unresponsive endpoints. TDM fallback support enables the ApplianX IP Gateway to complete inbound and outbound calls even in the event of an IP network failure.
"Most businesses acknowledge the advantages associated with IP technologies, but still hesitate to implement these solutions due to the associated costs of upgrading their data networks in order to support these capabilities," says Dominic Dodd, Frost & Sullivan's global program director of unified communications and collaboration technologies. "Aculab's ApplianX IP Gateway provides a viable alternative for customers that want to deploy IP, but without experiencing the massive disruption and expense of replacing their infrastructure." 
The ApplianX IP Gateway is available through ApplianX-approved resellers throughout Europe, North America and Asia. To locate a reseller in your area, please visit www.applianx.com
About ApplianX
ApplianX is wholly owned by Aculab and was formed in order to provide robust and reliable systems for the fast execution of Internet based communication strategies, with rapid deployment and integration into existing infrastructures.
ApplianX is based upon Aculab's award-winning Prosody X technology and reaps the full benefit of Aculab's heritage as a world market leader in the design and manufacture of communications enabling technologies. That engineering excellence is now brought to bear in the world of communications appliances through ApplianX - go to www.applianX.com for further information.
For more information, contact:
Faye McClenahan
Aculab  
Telephone: +44 (0)1908 273800
Email: faye.mcclenahan@aculab.com