London, UK, 27 July 2009 – A major user of Wyse thin computing solutions, Queen Margaret University has won a prestigious sustainable IT award. The Green Gown Awards recognise sustainability focused initiatives undertaken by universities and colleges across the UK. In the 2009 awards Queen Margaret University has won the Green ICT award because of its widespread deployment of a thin client infrastructure based on Wyse technology.
QMU worked closely with Wyse Technology in the run up to the opening of their new Craighall Campus in 2007 and reduced the number of conventional PCs from 900 down to 50 while also installing over 1200 Wyse V50 thin clients in the new building. With an average output (including the flat screen) of 42 watts the thin clients put out less heat than users, who on average generate 356 BTU (British Thermal Units) which equals around 75 watts.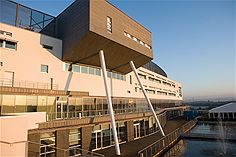 Queen Margaret University
The Wyse thin computers contributed to the building's BREEAM rating of excellent and the highest score recorded by any other comparable university project in the UK. The Building Research Establishments Environmental Method (BREEAM) is widely accepted as the leading measurement for best practice in how buildings are designed and managed to higher environmental standards. QMU was also highly commended in the Sustainable Building and Construction category of the Green Gown Awards.
David Angwin, Wyse Technology commented, "The new campus at QMU had to meet two clear requirements. The first was to be a world class green building and the second was to deliver high quality information services that were easily accessible and as good as or better than traditional IT systems. By working with Wyse they have been able to deliver high quality ICT services to staff and students throughout the entire campus and the thin clients only use a 10th of the power needed for PCs. In addition to this the low operating temperatures of the thin clients allowed a natural ventilation system to be installed that could never have handled the heat generated by PCs."
QMU is the latest Wyse client to win a major award for its sustainable IT.  Reed Recruitment has won several awards including the Computing Green Project of the Year Award 2008 and was recognised this year in the London Green 500 where they won three awards including the Trailblazer Award in recognition of how they have pioneered green computing.
For more information on the Green Gown Awards please click here: http://www.eauc.org.uk/green_gown_awards
For more information on the Green 500 Awards please click here:
http://www.green500.co.uk/ 
For more information, visit the Wyse website at http://www.wyse.co.uk or call 0845 604 0038 (UK only) or +44 (0) 118 934 2200
All brands and names mentioned herein are trademarks of their respective holders.
For further information contact:
David Angwin
Director of Marketing - EMEA
dangwin@wyse.com
00 44 118 982 8306