Sophisticated Analytics Solution Provides a More Personal Customer Experience and Boosts Revenues, Contributing to an Increase of £48m
Henley-on-Thames, UK, 29 July 2009 – Portrait Software, a leading provider of insight-drive customer interaction software, today announced that VisitScotland, the national tourism agency, has significantly increased revenues through the use of Portrait Customer Analytics, delivered as a hosted service through Optima Value Group.   With the help of Optima Value Group, VisitScotland has increased the revenue in the Scottish tourism industry by £48m in one year alone.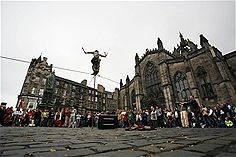 Portrait Software - VisitScotland 1 (credit - Scottish Viewpoint)
VisitScotland's vision is to contribute significantly to the advancement of Scottish tourism by giving it a real presence in the global marketplace and benefitting the whole of Scotland.  Its priorities are to attract visitors to Scotland, engage with partners within the industry and to add value to the visitor experience.
With a database of over 3.5 million consumers, collected over the last four years, VistScotland needed to determine how many were regular visitors, as opposed to occasional visitors so that marketing effort and monies could focus on those most likely to re-visit and those with a particular interest relevant to Scotland.  Segmenting the data and being able to intelligently apply marketing campaigns had been primarily a manual task and the level of analysis and accuracy fairly random.  Optima has been working with VisitScotland for the last 4 years to bring together information from disparate data sources and systems across the VisitScotland network to provide them, for the first time, with a coherent view of visitors, customers and potential enquirers.
Portrait Customer Analytics has enabled VisitScotland to develop a Relationship Marketing Program, based on the analysis of the travel behavior and patterns of UK and Irish tourists and from tourist feedback, which delivers integrated campaigns to increase visitor loyalty. The database has now been segmented into a 'loyalty ladder' with the level of marketing investment spent on each individual dependent on their position on the ladder. 
Pre-defined and customized follow up provides personalized, relevant and meaningful communication to individuals via multiple channels (primarily direct mail, email and website) allowing VisitScotland to process visitor requirements more quickly and more accurately.  Independent market research has calculated the value of trips by visitors who claim they would not have visited without prompting from marketing at £48m.
"Over the time we have worked with VisitScotland we have helped them to drive increased value from their customer and enquiry base by providing a managed service solution, database management services, assistance with campaign selections and access to analytics and reports" , explains Ian Rippin, Managing Director, Optima Value Group. "Visit Scotland is now able to process information so that the right message is sent to the right people at the right time."
Upwards of 200 campaigns a year are now processed through the managed service with Optima continually adding value to the communication processes with additional reporting and reviews of campaign success.
In effect this is a highly tailored marketing system that enables VisitScotland to focus their marketing efforts on consumers who are most likely to visit a particular part of Scotland or respond to a particular offer, based on their preferences.
"Through investing in technology and innovation we are bucking the trend of the downturn economy and have achieved results beyond our expectation," said Lynsey Fusco, DM Manager, VisitScotland. "The hosted service provided by Optima Value Group enables us to maintain business momentum and incrementally add new marketing functionality with minimal impact on internal resources."
"We are delighted that VisitScotland has had such success, said Kieran Kilmartin, Group Marketing Director, Portrait Software.  Using our sophisticated analytics VisitScotland can react faster to customer needs with highly personalized communications, giving them a distinct advantage in this highly competitive industry sector.  In a downturn  economy marketers are tasked with achieving more with less resources,  Portrait's applications not only optimize marketing efficiency but dramatically improve the effectiveness of all marketing campaigns", he added.
About Portrait Software
Portrait Software enables organizations to engage with each of their customers as individuals, resulting in improved customer profitability, increased retention, reduced risk, and outstanding customer experiences. This is achieved through a suite of innovative, insight-driven applications which empower organizations to create enduring one-to-one relationships with their customers. The Portrait suite seamlessly integrates the world's most advanced customer analytics, powerful inbound and outbound campaign management, and best-in-class business process integration to drive real time customer interactions that communicate precisely the right message through the right channel, at the right time.
Our 300 + customers include industry-leading organizations in customer-intensive sectors. They include Merrill Lynch, Lloyds Banking Group, US Bank, Dell, Nationwide Building Society, T-Mobile, Telenor, Fingerhut, Bank of Ireland, Bank of Tokyo and Fiserv Bank Solutions. 
For more information on Portrait Software, please visit: www.portraitsoftware.com.
About Optima Value Group
Optima Value Group (Optima) is the fastest growing MSP in the UK, helping its customers optimize their businesses from strategic planning through customer analysis to effective communications. Through a blend of big thinking, cutting-edge analysis and best-of-breed technology, Optima enables their client organizations understand who their best customers are; what the company should be offering those customers; and which communication channel offers should be made. Optima also helps companies identify and isolate those customer groups that do not generate a commercial return which eliminates marketing budget waste.
Optima is based on the fundamental belief that by making business more relevant to customers by getting underneath behaviours, motivations, desires and coupling this with creative, clear communication, we can help our customers improve their performance and generate greater profits.  Optima does all of this by leveraging advanced solutions.
Based in Edinburgh, UK, Optima Value Group distinguishes itself by bringing together experienced retail marketing practitioners with customer value management experts, and combines this with outstanding customer analytics and technology capability. Our people have been there and done it. Our solutions are cost effective and they work. For more information, visit www.optimavalue.com.
Media Contacts
Further information on this announcement and interviews are available from:
UK:
Ian Peel - Portrait Software Press Office @ Solid State Marcomms. 
Tel.: 07775 937494.  Email: ian@solidstatemarcomms.com
USA:
Jacqueline D. Sagl - Public Relations Consultant
Tel.: 978.265.3663.  Email: jsagl@comcast.net
Australia:
Annette Slunjski - Lucidity Marketing Communications
Tel.: +61 (0)2 4356 1520, mobile: +61 (0)408 460 711.  Email: annette@lucidity.com.au