Superior filtering, monitoring and reporting increases staff protection and saves money
Bloxx, the Web content filtering specialist, today announced that New Forest National Park Authority is using its Web filtering appliance to safeguard users when surfing the Internet and increase network protection to minimise security risks.  Additionally, the powerful reporting capability of the appliance is being used by the Authority to strengthen protection and compliance.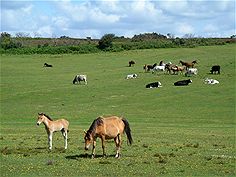 Ponies & Cattle in New Forest
With the help of IT specialists ASL Security, the Authority directly compared Bloxx with their existing managed service Web filtering solution and concluded that Bloxx provided all the flexibility, functionality and capabilities they required to more easily manage Internet access at a price that was very competitive. 
After nearly a year using the Bloxx appliance, the Authority is delighted with the results.  Paul Fleetwood IT Manager at New Forest National Park Authority explains, "The Authority now has the flexibility to offer different Internet usage parameters to our staff.  I can easily set up usage policies per user, department or group as well as dynamically block or allow sites, and thus protect staff from accessing inappropriate sites completely and non-business-related sites at certain times of the working day."
Paul adds "We can customise settings for web content and URL blocking dynamically in real-time.  I also have reports automatically generated and emailed to me on a regular basis.  I can view key indicators and have all the intelligence I need at my finger tips to enforce more stringent protection if and when required."
"I now have an easy-to-manage, in-house web filtering solution, providing all the capabilities and functionality I need to protect staff when online that will generate savings to the Authority in the region of £6,000 over three years when compared with the cost of my previous managed service solution," concludes Paul.
About Bloxx Tru-View Technology
Bloxx Tru-View Technology uses internationally patent pending technology to analyse and categorise web pages quicker and more accurately than other web filters which use manual URL classification and keyword scoring alone.
Using advanced intelligent identification and analysis techniques, Tru-View Technology provides instant classification of web content as soon as it is accessed, even if the content has not been seen by anyone before.
Bloxx Tru-View Technology helps organisations proactively manage users' access to web content which might lower productivity, expose the organisation to risk and liability or pose a network security threat.
An estimated 1.5 million + users already benefit from enhanced security and performance with low administration and no cost per user charges. Additional protection is provided via anti-virus, anti-spyware and anti-phishing functionality.
About Bloxx
Headquartered in the UK with sales offices in Holland, the USA and Australia, Bloxx offers appliance-based web filtering for medium and large organisations in both the business and public sectors. Bloxx has achieved unrivalled sales growth year-on-year to become the preeminent web-filtering solution provider.  Leading UK investment groups such as Archangel Investments Ltd and Braveheart Investment Group Plc have invested in Bloxx.
Editorial Contacts
Interviews, photography and further information are available from Carol Brennan at Bloxx.
Tel: +44 (0)1506 426976
Email: pr@bloxx.com