Award winning digital publishing provider, YUDU Media, is launching an online magazine store in the wake of the well-publicised closure of Menzies Digital's 'magazines on demand' service.
Called 'YUDU Store', the service will allow publishers to host their publications online and drive secure subscription traffic to each title.  Launch participants include The Big Issue, who are creating their very first digital version, and well-known magazine distributor Newsstand.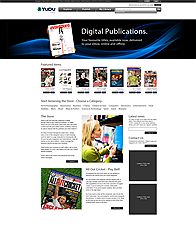 The YUDU Store
With worldwide coverage, YUDU Store will offer publications from across the globe.  A currency converter will subsequently let consumers know the price of each publication within their own local currency.
YUDU Store will also provide consumers with:
• A wide selection of titles from some of the UK's leading publishers
• New innovative subscribers' clubs with interactive pages such as forums and polls, alongside access to magazines' back catalogues
• Traditional payment methods including single issue and fixed term subscriptions (alongside the subscribers' clubs)
• A smart navigation system letting consumers quickly find their chosen magazine
For publishers, YUDU Store will offer:
• Multiple streams of revenue including extra advertising space
• Free distribution of all advertising copies reducing financial and environmental costs for the publisher
• 75:25 revenue share with publishers
• Built-in communication with consumers through the new subscribers' clubs, designed to assist marketing managers
• Marketing support including free flash banners for advertising purposes
• Weekly and monthly in-depth reports containing unit sales, demographics, ad clicks and individual article popularity figures
Designed with the assistance and help of some of the UK's leading publishing houses, YUDU Store also offers a state-of-the-art data capture facility which will let publishers rapidly build up a database of interested consumers within each subject category.
To help plan and launch the YUDU Store service, YUDU Media has recently appointed Robert Elding, internet marketing consultant for blue-chip brands and ex-head of online marketing at The Times.
Elding, who takes the title of marketing director at YUDU Media, will be joined by Chris Sheard, previously of Menzies Digital's 'magazines on demand' division. Sheard will take the title of YUDU Store marketing manager and will be responsible for the day-to-day marketing of the YUDU store product portfolio.
Robert Elding, marketing director of YUDU Media, says: "YUDU Store has two unique propositions – firstly, as a division of one of the world's biggest e-publishers, YUDU is the owner of the proprietary software, and secondly because there is no software license it can offer a revenue split of 75:25 which is a significant attraction for publishers."
Chris Sheard, YUDU Store marketing manager, says: "the biggest commitment we can give publishers is the promise of outstanding account management and support. We are so confident of our ability to deliver on this promise that we don't ask publishers for exclusivity and offer straight-forward rolling contracts."
-ENDS-
For further information please contact Jeremy Walters on 07931 381209 or jeremy.walters@yudu.com
Notes to Editors
YUDU Store
YUDU Store can be found at: http://www.yudustore.co.uk 
About YUDU Media
YUDU Media is an award winning provider of innovative digital publishing solutions for magazines, newspapers, catalogues and books, helping companies and individuals all over the world benefit from the growth in online publishing and reading.  With offices in London, Lancashire and Boston, MA, YUDU offers advanced professional publishing with YUDU Pro (www.yudupro.com) and free publishing at YUDU.com, the eLibrary and marketplace that also allows publishers to promote, share and sell their publications and other digital content with the world.
Sales & Marketing Email Contact:
chris.sheard@yudu.com