With the New Solutions, Wyse focuses on Maximized User Experience and ROI for Enterprises Moving Toward Enterprise-wide VDI Deployments
London, UK, 1 Sept 09 - Wyse Technology, the global leader in thin computing and client virtualization, today announced its newest certifications and solutions, strengthening its strategic partnership with VMware.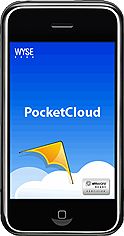 PocketCloud
Wyse's entire thin client portfolio is now VMware View 3.1 certified. This certification indicates that Wyse thin clients have completed the VMware Hardware Certification Program testing criteria for use with VMware View 3.1 and are now listed on the VMware Hardware Compatibility Guide List.  Passing the extensive certification tests helps ensure that Wyse is compatible with VMware technology and ready for deployment in customer environments.
"This certification strengthens the Wyse and VMware partnership and signifies to customers the integration of technologies between the two virtualization companies," said Jocelyn Goldfein, Vice President and General Manager, Desktop Business Unit, at VMware. "We are pleased that Wyse products will wear the VMware Ready Certified logo, and our solutions combined will enable enterprises centralized management, increased security and improved overall TCO."
Wyse is also announcing Project Vancouver, its broad support for the PC-over-IP (PCoIP) protocol.  PCoIP becomes a core supported protocol, just as Citrix ICA/HDX and Microsoft RDP are today.  Wyse is introducing the Wyse P20 Workstation class zero client, with PCoIP support in hardware.  This client is designed for the most demanding rich media applications including those usually beyond the reach of a thin computing solution, including CAD/CAM, solids modeling, advanced simulations and rich media.
Wyse will also offer PCoIP support across current Wyse thin clients with Microsoft Windows Embedded Standard and Windows XP Embedded operating system and will be available on Windows CE and Wyse ThinOS in the near future. 
 
To enable expanded access to virtual environments, Wyse has now built a iPhone featured App called PocketCloud™. PocketCloud is a brand-new application that allows users and IT administrators to access their PC and virtual desktops remotely through the convenience of their iPhone or iPod touch.  Wyse PocketCloud accesses any physical or virtualized infrastructure that supports the Microsoft RDP protocol, and additionally supports the VMware View 3.1 connection broker in direct and tunneling modes. SSL is supported in both cases.  Wyse PocketCloud integrates seamlessly into an already-established VMware View Server and doesn't require any special setup or software installed. 
"Wyse is very proud of our strength, vision, strategy, new products and partnerships.  Our strategic partnership with VMware plays is a integral part in completing our virtualization story," says Curt Schwebke, Vice President and Chief Technology Officer at Wyse. "We look forward to supporting VMware with the PCoIP project and see it to fruition."
About Wyse Technology
Wyse Technology is the global leader in thin computing-based virtualization software and hardware solutions.  Wyse and its strategic partners, including, Citrix, IBM, Microsoft, Novell, VMware, and others deliver the innovative hardware, infrastructure software, and services that formulate the benefits of cloud computing, virtualization and Green IT.  These thin computing solutions allow consumers, public and private enterprises to access the application information they need, but with better security, manageability, and at a much lower total cost of ownership than a PC.  Wyse is headquartered in San Jose, California, with offices worldwide.
For more information, visit the Wyse website at http://www.wyse.co.uk or call 0845 604 0038 (UK only) or
+44 (0) 118 934 2200
All brands and names mentioned herein are trademarks of their respective holders.
For further information contact:
David Angwin
Director of Marketing - EMEA
dangwin@wyse.com
00 44 118 982 8306