Tolly Group report confirms that VIPRE Enterprise consumes at least 38% fewer memory resources than Symantec or McAfee
Clearwater, Fla. – October 7, 2009 – Sunbelt Software, the provider of Windows security software, today announced the results of an independent performance test of leading endpoint security solutions by premier test lab The Tolly Group. The test found that Sunbelt Software's VIPRE® Enterprise significantly outperformed competing products from Symantec and McAfee through lower system resource usage and faster scanning speed. This superior performance reduces computer costs and increases productivity compared to the significant resource tax imposed by competing "bloatware" security products. The Tolly test included antivirus scanning performance and system resource utilisation.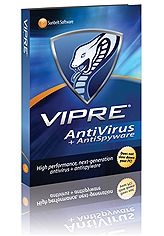 Vipre Boxshot
As threat vectors grow, many endpoint security solutions have evolved into resource hogs, commonly called "bloatware," which can render PCs virtually unusable during full security scans, impacting performance and compromising security if businesses choose to turn off their antivirus software as a method of coping.
Additionally, bloatware requires businesses to invest in greater system resources than they need to, thus significantly increasing the cost-per-employee for computing resources. IT administrators seeking to strike a balance between security protection, usability and cost require solutions that can deliver first-rate protection without consuming excessive amounts of system resources. 
The Tolly Group testing showed that VIPRE Enterprise consistently had the least impact on PC performance in terms of memory and CPU utilisation, regardless of the state of activity on the PC: whether at idle, while using the product's interface, during an on-demand full-system scan, or during remediation of risks found from the scan. VIPRE Enterprise consumed up to 38 percent less memory than Symantec Endpoint Protection 12 Small Business Edition and 45 percent less memory than McAfee VirusScan Enterprise 8.7i.
 
Additionally, VIPRE Enterprise scanning speeds (during full-system scans) were up to 2.6 times faster than Symantec and 3.6 times faster than McAfee. In fact, VIPRE Enterprise performed a full system scan in only 8 minutes, while Symantec took 20 minutes and McAfee took 28 minutes. 
"The bloatware phenomenon has long been a problem in the antivirus market. If productivity is threatened by security measures, users will work around them or remove them altogether, causing dangerous repercussions and opening them up to numerous threats," said Sunbelt Software CEO Alex Eckelberry. "As The Tolly Group test shows, VIPRE Enterprise is a compelling example of a security solution on the market that was built specifically to ease the burden on PC performance while still providing world-class anti-malware security."
Summary of VIPRE Enterprise's demonstrable benefits:
• Workstations protected by VIPRE Enterprise deliver first-rate protection without impacting employees' ability to use their computers.
• With VIPRE Enterprise, companies can reduce the minimum system requirements for purchasing computers, thus reducing costs.
• During an exhaustive, on-demand security scan, VIPRE Enterprise beats Symantec and McAfee by delivering:
o Faster scanning speed
o Lower CPU utilisation
o Lower memory consumption
To view the full report, including testing methodology and parameters, please visit http://go.sunbeltsoftware.com/?linkid=1235.
About The Tolly Group
The Tolly Group, an independent testing and strategic consulting organisation based in Boca Raton, Fla., offers a full range of services designed to furnish both the vendor and end-user communities with authoritative and unbiased information. Additionally, The Tolly Group is recognised worldwide for its expertise in assessing leading-edge technologies.
About Sunbelt Software
Headquartered in Tampa Bay (Clearwater), Fla., Sunbelt Software was founded in 1994 and is a leading provider of Windows security software including enterprise antivirus, antispyware, email security, and malware analysis tools. Leading products include the VIPRE® and CounterSpy® product lines, Sunbelt Exchange Archiver™, CWSandbox™, and Threat Track™.
For more information about Sunbelt Software, please visit the company's website at http://www.sunbeltsoftware.com. To learn more about current activities, products, and ideas at Sunbelt Software, please visit Sunbelt's corporate blog at http://www.sunbeltblog.com.
To view this release online, go to http://www.sunbeltsoftware.com/Press/Releases/?id=312. 
Contact:
Martin Brindley
DMG Europe
+44 1256 807360
sunbelt@daviesmurphy.com
www.daviesmurphy.com
Laurie Murrell
Sunbelt Software
+1-727-562-0101
lauriem@sunbeltsoftware.com
www.sunbeltsoftware.com
# # #
Copyright © 2009 Sunbelt Software. All rights reserved. All trademarks used are owned by their respective companies.