Ernst & Young awards Fitzgerald for creating an innovative global mobile solutions business
Kerry Technology Park, Ireland, 23 October 2009 - Mike Fitzgerald, CEO of mobile communications company, Altobridge, was named last night as Ernst & Young's Irish Entrepreneur of the Year 2009, in the Emerging category.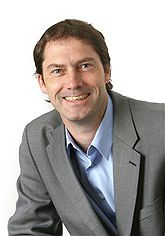 Mike Fitzgerald
The award was presented by Irish President, Mary McAleese, who paid tribute to all the finalists' "courage, resilience and inventiveness" and noted that they had been subjected to "the most rigorous, forensic, expert scrutiny" as part of the Award process. Accepting the award, Mike Fitzgerald was quick to emphasize the contribution of his Altobridge colleagues to his win.
"When I started out 21 years ago as a software engineer, the team leader asked me if I understood the concept of teamwork. It wasn't until Altobridge that I fully discovered its true meaning and it is a privilege to accept this award on behalf of everyone in the company.
Fitzgerald went on to give a special mention to Altobridge board member, Declan Hogan. "In particular I want to thank Declan Hogan, my mentor, who took me under his wing 10 years ago. He has given me confidence and has always been a great inspiration."
The judges singled out Mike's vision and leadership in driving the success of Altobridge in emerging markets including Mongolia, Malaysia and Latin America. Fitzgerald added, "Altobridge has created the world's most cost-effective solution for providing remote communities with access to mobile communications. This award is a wonderful recognition of the quality of our products and technology, the focus and commitment of our worldwide team and the long-term value of our business."
For further information on the awards visit: http://www.eoy.ie/.
-ends-
Notes for editors
About Altobridge - www.altobridge.com
Headquartered at Kerry Technology Park, Ireland and with regional offices in Tyson's Corner, Virginia, USA and Kuala Lumpur, Malaysia, Altobridge is a leading provider of telecommunications solutions that cut the cost of communications to, from and between wireless devices.
The Altobridge patented Split Architecture and Local Connectivity platforms, which are combined within the Remote Community Solution, cut backhaul costs to and from base station sites as well as providing local call switching. These solutions have been successfully tested and deployed across the world's wireless telecommunications networks as well as in the following vertical markets: Remote Community/Enterprise, Aeronautical, Maritime, Secure and Emergency/First Responder wireless communication.
Altobridge licenses its software to the world leading wireless telecommunications vendors and can also provide fully managed services to Mobile Network Operators. Wireless operator clients include: Maxis in Malaysia (Remote Community), Mobicom in Mongolia (Remote Community), AeroMobile (Aeronautical GSM), Blue Ocean Wireless (Maritime GSM). Vendor clients include: Ericsson (Local Connectivity).
Issued by the Corporate Communications Department of Altobridge Limited.
For further information, contact:
Linda Hickey
Marketing & Communications Director
Altobridge Ltd
Kerry Technology Park
Tralee, Co. Kerry, Ireland
Tel: +353 66 719 0210
Fax: +353 66 719 0022
Email: info@altobridge.com
For Media and Analyst Relations enquiries:
Tim Guest
Altobridge Corporate Communications at
Global Media & Analyst Relations
London, UK
M: +44 7956 257069
Email: tguest@altobridge.com or timjguest@btconnect.com