Wick Hill now shipping WatchGuard XTM appliances
Wick Hill release: Woking, Surrey: 30th October, 2009 - Wick Hill is now shipping WatchGuard's new XTM appliances - the XTM 8-series and the XTM 1050. These new security solutions from WatchGuard will strongly challenge traditional larger SME and enterprise UTM suppliers, as they update the UTM concept to cope with today's changing security scenario.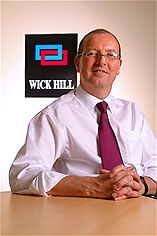 Ian Kilpatrick, chairman Wick Hill Group
XTM (eXtensible threat management) is a new class of security solution which provides more security features, greater networking capabilities and more management flexibility than its UTM (unified threat management) predecessor, as well as greater IT investment protection, increased green credentials and improved choice for large and enterprise customers .
According to Charles Kolodgy, research director, security products, for IDC: "UTM will remain the primary security solution for distributed environments, but within the enterprise it will evolve into an eXtensible Threat Management (XTM) platform. XTM platforms will take security appliances beyond traditional boundaries by vastly expanding security features, networking capabilities and management flexibility."
WatchGuard® XTM builds on the powerful IDC-defined UTM foundation of integrated firewall/VPN with virus and intrusion blocking, but extends security to provide spam blocking, spyware and bot protection, and URL filtering. It also includes enhanced support for business technologies such as Voice over IP (VoIP), and is the only XTM product on the market that offers inbound and outbound HTTPS inspection to increase content security coverage and close the HTTPS loophole.
The WatchGuard XTM appliances support high availability, open common standards-based management, and are customisable to meet specific requirements or add additional security functions when needed.
The XTM 1050 is suitable for larger SMEs, branches/departments of larger enterprises and companies/organisations with up to 10,000 users, while the XTM 8-series is suitable for up to 5,000 users. They both provide integrated SSL and IPSec VPNs to ensure secure connectivity for remote workers.
Ian Kilpatrick, chairman of Wick Hill Group, commented: "With larger organisations looking for cost-effective solutions that meet both tactical and strategic security requirements, as well as minimising their green footprint, WatchGuard's XTM appliances will be an extremely attractive proposition.
"Additionally XTM gets away from the confusion in the UTM market where some UTM solutions barely meet the IDC definition and don't have the ability or performance capacity to cope with current and future threats. WatchGuard has taken a big step forward with these new XTM products and will gain significant market share."
About Wick Hill
Established in 1976, value added distributor Wick Hill specialises in secure infrastructure solutions. The company's portfolio covers security, performance, networking, unified communications and hosted solutions. Wick Hill sources and delivers best-of-breed, easy-to-use solutions through its channel partners, providing customer support, implementation, technical services and authorised training courses.
The company works closely with vendors and its portfolio includes solutions from leading names such as WatchGuard, Check Point, VASCO, CRYPTOCard, Allot, Kaspersky Lab, Samsung, NETGEAR, M86, Barracuda Networks, LogLogic, ArcSight and Yoggie. Wick Hill Ltd. is part of Wick Hill Group, based in Woking, Surrey with sister offices in Hamburg. Users of products sourced through Wick Hill include most of the Times Top 1000 companies.
About WatchGuard Technologies, Inc.
Since 1996, WatchGuard® Technologies, Inc. has been the advanced technology leader of network security solutions, providing mission-critical security to hundreds of thousands of businesses worldwide. The WatchGuard family of wired and wireless unified threat management appliances and WatchGuard SSL VPN remote access solutions provide extensible network security, unparalleled network visibility, management and control. WatchGuard products are backed by WatchGuard LiveSecurity® Service, an innovative support, maintenance, and education program. WatchGuard is headquartered in Seattle and has offices serving North America, Europe, Asia Pacific, and Latin America. To learn more, visit www.watchguard.com.
ENDS
For further press information, please contact Annabelle Brown on 01326 212130, email abpublicrelations@btinternet.com. For reader queries, please contact Wick Hill on 01483 227600, web www.wickhill.com. For pic of Ian Kilpatrick, please contact Annabelle Brown or download from http://www.wickhill.com/company/press/pictures.php