Inaugural event a success and winners announced.
The first Cleantech Connect 2009 awards were held in London's St James' last night.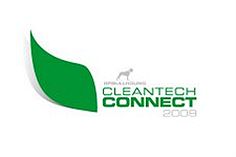 Cleantech Connect Logo
Organised by GP Bullhound with Schroders Private Banking as a premium sponsor.

The 150 strong crowd represented the cream of both entrepreneurs and investors in the European cleantech sector.

With the sector growing exponentially year on year, GP Bullhound is pleased to be a leading supporter of the innovative organisations in this field.

Some major names were present on the night, including Cleantech Connect 2009 Award winners, Greenroad, MBA Polymers, Green Gas; and the US vehicle manufacturer Tesla Motors, showcased their latest Tesla Roadster fuel efficient car.
Hugh Campbell, Partner at GP Bullhound, said, "We had a fantastic response to our call for entries for the Cleantech Connect 2009 Awards. The quality of the entrants was exceptional. It is great to see Europe leading the way in the cleantech arena. There had to be some winners, and we are delighted with the four companies selected. Thanks goes out to our sponsors, partners, entrants, winners and esteemed judging panel, who made the inaugural Cleantech Awards a great success. GP Bullhound is proud of its association with this dynamic group."

The four winners of the five category Cleantech Connect 2009 Awards are:
Fastest Growing Company: ClimateWell
Uniqueness of Offering: MBA Polymers
Vision & Future Growth Potential: Greenroad
Best Management: Greengas
Best Execution: Greengas
Key facts:
Cleantech Connect companies grew their revenues from € 171 in 2006 to € 444 in 2008,
$23.9 billion was invested globally in the space by Q3 2009,
over one third of GP Bullhound's current mandates are in the cleantech sector.

-ends-
About GP Bullhound
GP Bullhound, Europe's leading Investment Bank in Technology and Digital Media, has during the period 2006-2008 successfully raised in excess of 250MUSD for growth companies. With offices in San Francisco and London, GP Bullhound takes an active part in the local entrepreneurial community, venture market and corporate environment. Thus giving expert advice within mergers & acquisition and institutional capital funding. In 2008 GP Bullhound demonstrated growth for the 5th consecutive financial year.
About Cleantech Connect 2009 Awards
Cleantech Connect brings together Europes' leaders in the clean and green technology space. Recognising growth and innovation in the sector, GP Bullhound is a keen supporter of this growing area. Cleantech Connect 2009 Awards are sponsored by: Schroders Private Banking, law firm Choate, European Leadership Foundation, Nexec, and the charity for the night, The Prince's Trust.
For further information, please contact:
Xavier Adam (Media Relations), AMC Network
xavier.adam@redamc.com
00 44 (0) 7795 568376 mobile
00 44 (0) 207 617 7263 office