Logic3 today announced it had added the ScreenBeat USB – an easy to use stylish cylinder shaped metal speaker – to its popular range of iPod, MP3, PC, gadget and games accessories.
Designed specifically for use with laptops and netbooks, the ScreenBeat speaker is made of tough but lightweight aluminium, and its USB connection doubles up as the power supply and in-built sound card. The ScreenBeat is fully compatible with all Mac, PC and Linux-based computers.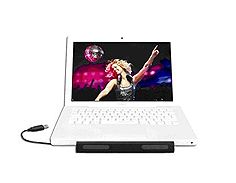 ScreenBeat Speaker
In its compact 8" tube, the ScreenBeat packs a surprisingly powerful punch delivering three watts of remarkably clear stereo sound.
The sleek design of the ScreenBeat speaker makes it perfect companion for business or pleasure. Whether it is watching YouTube, BBC iPlayer or DVDs, playing music to friends, chatting on Skype, or adding sharp sound to that all important business presentation – the ScreenBeat is equally at home in the bedroom or the boardroom.
Easy to store and highly portable, every ScreenBeat speaker comes in a compact protective case so that it can be safely stored when not in use or during transit.
The ScreenBeat (model no: SB332K) has an SRP of just £19.99 and can be bought online at www.amazon.co.uk or www.logic3.com.
-ends-
Logic3
Logic3 was founded in 1977, and has since developed hundreds of products for the portable audio and console/PC gaming industry. Visit www.logic3.com for the full range of innovative gadgets and gaming accessories.
For further information, images and products please contact
Holly, Kelly or Lynne on 0118 920 7675
Or email logic3@escapadepr.com