Netsize previews survey results at M-Days mobile conference and trade show in Munich, Germany
Munich, Germany, January 28, 2010 -- Netsize, a leading mobile commerce and communications enabler, today revealed the first results of the Mobile Trends Survey 2010. Drawing from an online survey of 1,000+ professionals and practitioners, the survey provides insights into key trends that top the industry agenda, including the advance of mobile applications stores, progress towards global mobile commerce and the pivotal importance of mobile as a means to bridge our virtual and physical worlds.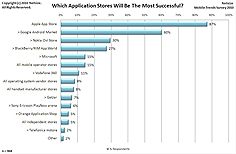 App store winners
Using the occasion of M-Days – one of Europe's biggest mobile industry events and exhibitions held in Munich, Germany – Netsize provided conference attendees, industry influencers and key bloggers a sneak peek into the controversial survey results, starting with respondents' views on app store leaders and the enablers that give them and their offers the competitive edge.
According to the survey, the vast majority (87 percent) of respondents believe the Apple App Store will be the most successful app store in the mobile space. Google's Android Market is a distant second (60 percent), followed by Nokia's Ovi Store (30 percent) and RIM's BlackBerry App World (27 percent). Surprisingly, applications stores run by mobile operators finished low in the list, indicating that platform providers and handset makers may well dominate the space for a time to come.
When asked to rate the unique selling proposition of application stores over other software distribution and sales channels, 65 percent of respondents put convenience ("everything in one place") at the top of the list. This was followed by compatibility "software applications specific to the device"), choice ("a long tail of thousands of applications to choose from"), and ease of payment ("operator billing, for example").
Netsize, provider of operator billing solutions to most of the large mobile device vendors for their application stores, released the application store survey findings to the stage for a lively discussion of the future of mobile and the role of software application stores during "Mobile Trends 2020, Mobile Research and App-Commerce: What Comes Next in Europe?". The M-Days session was led and moderated by Peggy Anne Salz, mobile thought leader and MSearchGroove Founder and Chief Analyst.
The complete mobile trends survey results – which cover topics related to mobile entertainment, mobile marketing, mobile commerce, mobile payments and mobile convergence – will be released as part of the Netsize Guide 2010, a comprehensive mobile industry analysis and almanac published by Netsize and written by MSearchGroove's Salz. Netsize will launch the Netsize Guide 2010 on February 16, 2010 at Mobile World Congress in Barcelona, Spain.
ABOUT NETSIZE
Netsize, a Gemalto company, is a leading mobile communications and commerce enabler. Netsize solutions include Mobile Messaging, with SMS and MMS delivery in 200 countries; Mobile Payment through operator-based billing (Premium SMS, MMS, & WAP) in 28 countries; and Mobile Content Management platforms with publishing & editing tools to manage messaging services and mobile Internet portals. Netsize manages more than 60 million mobile transactions per month for 800 customers worldwide, including Fortune 500 companies. With 180 employees in 10 offices worldwide, Netsize provides both robust technical infrastructure and marketing expertise to support this successful deployment on a global scale.
For more information about Netsize please visit www.netsize.com
About MSearchGroove
Peggy Anne Salz is the Chief Analyst and Founder of MSearchGroove, the source of analysis and commentary on mobile search, mobile advertising, and social media that was recently named a top 50 influential technology blog by Konector. Her report, "Mobile Search & Content Discovery," was regarded as the first in-depth study of its kind, establishing Peggy as an authority on mobile search and content discovery technologies, enabling media companies and mobile operators to monetize content and services. Her most recent series of practical how-to white papers covers the basics of mobile advertising and mobile analytics, earning her a reputation as a leading mobile advertising expert. She has written hundreds of articles tracking mobile industry trends and authored the Netsize Guide for three consecutive years. Peggy has established a successful writing and consulting career based on vision, insight, versatility, and more than 15 years of industry experience. For more information, please visit www.msearchgroove.com.
###
FOR MEDIA ENQUIRIES, PLEASE CONTACT:
NETSIZE
Alexander Vlasblom
Group Marketing Communications Director
Tel.: +31 (0) 20 3120453
E-mail: avlasblom@netsize.com
NOTES TO THE EDITOR:
For an exclusive preview copy of the Netsize Guide 2010 and the Mobile Trends Survey results prior to their official launch on 16 February, please contact Alexander Vlasblom, Group Marketing Communications Director, Netsize.