ADA sharpens its Hosted ERP portfolio with Hosted Dynamics NAV from £95 a month
ADA Technology Services, the UK based business solutions innovator, has announced a new pricing structure for its hosted ERP (Enterprise Resource Planning) solution. Based on Microsoft Dynamics NAV, ADA's hosted ERP solutions start from just £95 a month for a single licence.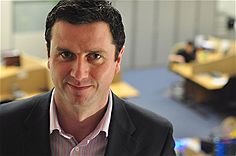 Carl Grieves, Director of ADA's Business Solutions Group
ADA Technology Services was the first ERP consultant in the UK to launch a fully provisioned and hosted ERP solution based on Microsoft Dynamics NAV. Launched in 2008, the Microsoft Gold Partner serves a growing number of hosted ERP clients from its ISO9001 accredited data centres in Burgess Hill and Solihull.
ADA's hosted software solutions are designed to have a positive impact on the Customer's cash flow from day one. By removing the need for upfront capital spend on both IT infrastructure and the software itself, ADA's hosted ERP solutions eliminate the need for businesses to develop in-house technical expertise. Both the associated infrastructure and the ERP software is configured, hosted and managed off site by ADA.
Commenting on the announcement, Carl Grieves, Director of ADA's Business Solutions Group said "Unlike other hosted ERP solutions currently available in the UK, ADA's hosted ERP 'software as a service' is built around an all inclusive pricing model where there are no hidden extra costs. With the lowest possible cost to entry, any organisation can now deploy a leading Microsoft ERP solution from just £95 a month".
Pay monthly options are allowing ADA's customers to invest in the latest business management software over time. Conversely, the financial and operational benefits associated with the latest software are available immediately. Driven by agility, ADA routinely configures all ERP deployments to meet each customer's specific needs. As these needs change, ADA's scaleable model allows customers to add functionality and additional licences as required.
By including training, maintenance, data back-up and ongoing support, ADA's hosted solutions remove the operational and the financial burdens of owning and running an ERP service. Furthermore, ADA's hosted ERP solutions can be provisioned much faster than on-premise systems, enabling businesses to start using their new ERP software far more quickly.
Grieves concluded "ADA is one of the few companies in the UK that can provide both software implementation and in-house hosting via multiple data centres. Consequently, ADA is wholly responsible for both application support and service delivery. This fact, combined with ADA's 24/7 SLA based monitoring platform means that our hosted ERP customers can invest with great confidence."
About ADA Technology Services
A vendor independent IT solutions company, ADA Technology Services holds premier level accreditations with best of breed solution providers including Microsoft, VMware, Dell, NetApp, HP and Citrix. With over 20 years of experience in delivering IT solutions, ADA has become one of UK's leading IT managed service providers. ADA's network of data centres provide hosted software and hosted infrastructure solutions for a variety of public and private sector organisations.
For more information:
Carl Grieves
Director, Business Solutions Group
ADA Technology Services
T +44 (0)1444 232 000
E cgrieves@ada.co.uk
W www.ada.co.uk
Media enquiries to:
Uday Radia
CloudNine PR
M +44 (0) 7940 584161
E uradia@cloudninepr.com
W www.cloudninepr.com