Virgin Media Business launched today, outlining plans to shake up the UK business telecoms market. The company has set out an ambitious strategy to capitalise on a track record of double digit growth over the last three years. By growing business data and bringing the Virgin philosophy of innovation and brilliant customer service to the business telecoms market, the company is positioned to become a compelling alternative to BT.
With 40 offices located across the UK, Virgin Media Business will deliver a highly personalised service to mid-sized, nationally-oriented enterprises and the public sector. It plans to set new standards for the business telecoms market by building on the service heritage of the Virgin brand. Each customer will be provided with access to a dedicated account team to manage their needs. Combining outstanding customer service with continued financial commitment to enhance its technically superior network will enable Virgin Media Business to effectively target revenue opportunities, such as the demand for Ethernet in the corporate world as well as the PSN initiative in the public sector.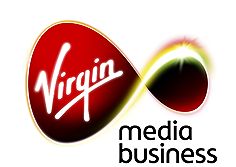 Virgin Media Business
Mark Heraghty, managing director of Virgin Media Business, said: "We have big ambitions for Virgin Media Business. Our main goal is to grow the company, but we can only do that if the market likes what it sees. We've got to be better than anyone else and that means delivering the basics brilliantly, as well as matching customer needs with our technology and great service. Over the last three years we've invested heavily to put the building blocks in place, which means we're more than fit to wear the Virgin badge."
"In the last 12 months in particular, we've started to reap the rewards of that focussed investment. Projects such as working with the Hampshire and Isle of Wight Partnership (HIOW) to deliver a cutting-edge £90 million network that will transform public services in the region are testament to our ability to drive and underpin radical growth. And the good news for our customers is that there is more to come," he said.
Virgin Media Business intends to focus on a number of core technology areas to achieve its goals. This includes expanding its extensive Ethernet portfolio, which already offers everything from simple point-to-point Ethernet circuits for the Metropolitan area through to national point-to-point and point-to-multipoint Ethernet services as well as any-to-any Ethernet VPNs.
In addition Virgin Media Business will expand the capability of its customer portal by integrating all services into one single application, putting enterprises firmly in the driving seat of their operations. The improvements will allow for fault and order management, online billing and performance management and, ultimately, support customer self-provisioning.
Neil Berkett, CEO of Virgin Media, said: "There is a significant opportunity to leverage the full power of our fibre optic network in the business telecoms market. Virgin Media Business will take our strong customer-centric approach to a growing and under-served market in which there is a need for a compelling and distinctive alternative to BT."
- ends -
About Virgin Media Business
Virgin Media Business is the UK's only telco with a national fibre optic Next Generation Network. Launched in February 2010, the company aims to bring the Virgin philosophy to the business telecoms market. Providing innovative, high quality solutions built on brilliant customer service.
Virgin Media Business is the largest business-to-business brand in the Virgin group. With a strong product portfolio that includes its market leading Ethernet services. It uses its network asset in order to create bespoke tailored telecoms solutions for its customers. Employees are located at 40 offices across the UK, allowing Virgin Media Business to be closer to its customers in every sense.
Previously known as ntl:Telewest Business, organisations working with Virgin Media Business include London City Airport, Arqiva, Hampshire and Isle of Wight Partnership and South West Water.
For further information go to: www.virginmediabusiness.co.uk
Virgin Media Business press contacts:
Sara Doggett
Virgin Media Business
T: 01256 753101
E: Sara.Doggett@virginmedia.co.uk
Sophie Hodgson, press office
Speed
T: 020 7842 3262
E: sophie.hodgson@speedcommunications.com