New device uses NFC technology to simplify the user experience
Mobile World Congress, Barcelona, 15th February 2010 – Sagem Wireless today announced the launch of Cosyphone, a connected lifestyle device aimed at the over 50's market. Cosyphone combines the latest technology innovations such as NFC with a simple yet elegant design and easy-to-navigate user interface to create a connected device which is customised to the specific lifestyle needs of an older generation of mobile phone user.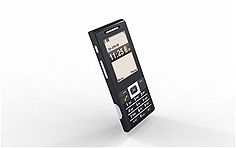 Cosyphone
Cosyphone is designed to be ultra simple and elegant, with an ergonomic form factor and user interface to simplify access to the features users want quickly and easily. Cosyphone uses contactless NFC technology (near-field communications) to enable users to access the features of the device without scrolling through menus on the handset. Users can create pre-configured and customised shortcut cards (or "tags") for friends and family, or services such as the doctors or the supermarket, and simply wave their device over the cards to activate the call or text message. Shortcut cards can also be used for data services, for example accessing the latest weather or traffic information on the phone's browser.
With its sleek, attractive form factor, Cosyphone is a stylish device that places a heavy emphasis on simplicity of use and style. Unlike many mobile devices which require small and nimble fingers to operate, Cosyphone has a large keypad with raised and separated number keys. Number and text input is simplified by the width of the key surface area, and the key shape is rounded on the top for better tactile awareness. In addition, micro-vibration feedback gives the user assurance they have pressed the right key.
The Cosyphone is stylish. Unlike other phones for this market, the Cosyphone is sleek but easy to hold and operate. The display is adequately large and the fonts are very legible in various lighting conditions. The device also comes with an innovative recharger cradle that is also designed for ease of use; the phone slides in easily and does not require any cable attachments.
Thierry Buffenoir, CEO, Sagem Wireless commented: "Everything about the Cosyphone is centred around comfort and simplicity, from the shape, weight and display of the device to the user interface and charger cradle. We have integrated the latest NFC technology to enable users to customise how they access the features they require from a mobile device. Despite such a wide variety of devices on the market, with an aging population in Europe there is an opportunity for a simple, effective connected lifestyle device which makes life easier. Cosyphone fills this gap in the market."
Cosyphone will be sold through mobile network operators.
About Sagem Wireless
Sagem Wireless provides customised connected lifestyle devices and services to leading consumer lifestyle brands and mobile network operators worldwide. Using technology innovation and customer insight as strategic tools in the product design process, Sagem Wireless develops a range of connected lifestyle devices personalised to the specific needs of different customer segments. With industry leading technology partners and its own R&D centres based in Europe and Asia, Sagem Wireless offers pre-requisite manufacturing expertise intrinsic to the product design process that relies on both flexibility and the highest level of quality to assure successful entry into new and existing markets. For more information, visit: www.sagemwireless.com
Media Contacts:
UK Media:
Matt Ball
AxiCom (for Sagem Wireless)
Tel: +44 20 8392 4077
Email: sagem@axicom.com
French Media:
Laure Bilhere
Cohn & Wolfe (for Sagem Wireless)
Tel: +33 1 49 70 43 78
Email: laure.bilhere@cohnwolfe.com