February 17, 2010 — Kodak announces today updates to its networked document scanner - the KODAK Scan Station 500 - to help businesses of all sizes achieve greater productivity, efficiency and cost savings. New remote network administration features makes it easier for IT professionals to manage the installation and settings of multiple scanners from offsite locations—offering a scalability factor "first" for Kodak networked scanners. In addition, a doubling of daily volume capacity to 3,000 scans per day enables the Scan Station 500 to help businesses process larger projects, effectively completing more tasks in a single day.
Hauke Fast, EAMER Product Marketing Manager, Document Imaging, Kodak, said, "Enhanced functionality for the Scan Station 500 help businesses achieve better efficiency through a multi-functional, easy-to-use networked scanning solution. Government agencies and offices, financial firms, health care facilities, SMBs and other organisations are all examining ways to help their employees work smarter, faster and stronger to be more productive. At the same time, IT managers in these same companies are seeking solutions to keep costs low in hardware administration tasks, especially across multiple locations. With the new Scan Station 500 upgrades, businesses can effectively meet both of these requirements."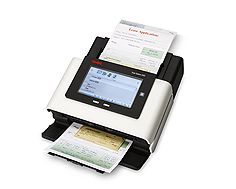 Kodak Scan Station 500
As a networked scanner, the Scan Station 500 saves on costs by eliminating the need for additional PC hardware and software purchases. The Scan Station 500 essentially serves as an intelligent hub for routing documents to network locations, FTP servers, fax, USB drives, networked printers and other external destinations.
With remote administration capabilities added into the Scan Station 500, IT managers and other technicians can more easily perform regularly scheduled, specific maintenance tasks associated with troubleshooting. This may be especially beneficial to small-to-medium sized businesses (SMBs) with limited IT support staff and offers additional scalability to larger organisations that deploy a number of networked scanners.
The new upgrades build upon the platform of the original Scan Station 500 and the software can be downloaded from the Kodak website for all existing units. The Scan Station 500 has exceptional image integrity with Kodak's exclusive Perfect Page image processing technology, and offers segment leading ease of use through its eight inch LCD colour touch screen with an intuitive graphical user interface.
Equipped with Kodak's exclusive Voice Attachment feature, the scanner enables users to easily send personalised audio messages along with scanned images for consistent, clear communications.
Available accessories include tethered A3 or A4 flatbed scanners and a tactile keyboard. The list price for the Scan Station 500 is €2,495 and it comes with a one year Advance Unit Replacement (AUR) warranty with scanner hotline support in multiple languages, upgradable to 3 years next business day.
Service and support packages are available for the Scan Station 500 through KODAK Service and Support, a leading multi-vendor integrated services provider, delivering consulting, installation, maintenance and support services for the commercial printing, graphic communications, document imaging, data storage, and retail industries. Over 3,000 Kodak Service & Support professionals in over 120 countries are uniquely qualified to provide services that control costs, maximise productivity, and minimise business risk.
- ENDS -
About Kodak
As the world's foremost imaging innovator, Kodak helps consumers, businesses, and creative professionals unleash the power of pictures and printing to enrich their lives.
To learn more, visit http://www.kodak.com and follow our blogs and more at http://www.kodak.com/go/followus.
More information about KODAK Document Imaging Scanners and Services is available at
www.kodak.com/go/docimaging.
(Kodak is a trademark of Eastman Kodak Company.)
Contacts:
Kodak Document Imaging, UK
Jonathan Tripp
Marketing Manager UK & EAMER
Tel: +44 (0)1442 846633
E-Mail: jtripp@kodak.com
Web: www.kodak.com/go/docimaging
Tom Herbst PR Limited
Tom Herbst
Director
Tel: +44 (0)207 274 9937
Mob: +44 (0)7768 145571
E-Mail: tom@tomherbstpr.co.uk