Fact-packed Smaato report focuses on U.S. & South-East Asian markets
Special Smaato Podcast Series Showcases Mobile Advertising Award Winners & Trends That Matter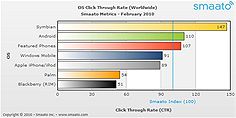 OS Click Through Rates - Worldwide
REDWOOD SHORES, CA. and COLOGNE, Germany – March 4, 2010 – Smaato Inc., a leading mobile ad optimizer and mobile advertising agency, has released its latest global mobile advertising metrics in an exclusive post at MSearchGroove, a top 50 influential source of analysis and commentary on mobile marketing, mobile search and social media. Smaato's Worldwide Index - which analyzes ad network fill rates and sheds important light on click-through rates (CTR) segmented by handset operating system, geography and response times – is based on data collected from 35 mobile ad networks and over 4 billion ad requests served in the Smaato network of more than 3,000 registered mobile publishers in February 2010.
Overall, Smaato's metrics show that the average worldwide ad network fill rates remain constant at 29% in February 2010. The fill rate is measured as the percentage of ads delivered per ad request and varies by different factors, like country, device, content type.
Smaato's Index also provides a breakdown of CTR data, segmented according to operating system, showing that Symbian continues to lead the pack, with Android a distant second. However, there are some significant shifts that indicate the gap between operating system CTRs could be closing fast. For example, BlackBerry comes in at 51, up from 30 in December 2009, while Symbian – still the dominant operating system – has dropped slightly. It comes in at 147, compared with 173 in December 2009.
However, the biggest surprise is the lead Windows Mobile has over Apple. Specifically, the iPhone and iPod Touch show a declining CTR, coming in with a rate of 89. This is the first time Apple devices have dipped below the average Index of 100, and the first time that Windows Mobile has edged ahead of its rival. In December 2009 the iPhone posted a CTR Index of 119, sliding to 104 in January 2010.
A more detailed analysis of the Smaato Worldwide Index, which covers the ad fill rates of the global top 10 ad networks and a special focus on the fill rates of mobile ad networks in the U.S. and South-East Asia, has been posted on MSearchGroove today (www.msearchgroove.com).
Overall, the best performing mobile ad network in the Smaato Worldwide Index had a fill rate of 72% in February 2010, down 17 from January. Despite this decrease, the average for worldwide ad network fill rate performance remained steady at 29%. What's more, Smaato found that six of the top ten ad networks performed above this average. This re-enforces the pivotal importance and advantages of the network aggregation business model. Smaato aggregates 35 ad networks across the globe to ensure partners get the highest possible fill rate.
"Publishers struggle to identify – in real-time – the right ad network to deliver the right results," notes Peggy Anne Salz, Chief Analyst at MSearchGroove (MSG). "Smaato's aggregation model, which has gained traction globally through its ability to dynamically identify the ad networks that monetize publishers' inventory best, is core to Smaato's competitive advantage."
Smaato is also focused on cultivating a robust mobile advertising business ecosystem in which in can play a leadership role. To this end Smaato also dedicates significant resources to identify and encourage mobile advertising pioneers and innovators.
A prime example of this is the Smaato Mobile Advertising Award, which recognizes excellence in the mobile advertising and developers harnessing mobile apps and the mobile Web that can also be tapped to deliver compelling messages and campaigns to consumers worldwide.
Among the winners – chosen by a world-class jury of leading influencers of the mobile community including MSearchGroove – were: Aloqa, a U.S.-based mobile service that proactively notifies people of interesting places, events, music, movies and other activities nearby; Waze, an Israeli startup that taps the wisdom of crowds to provide real-time maps, traffic information and turn-by-turn directions; and Yoose, a provider of mobile coupon and loyalty programs based in Germany.
To showcase these high-flyer companies and their views on industry hot topics including engagement, location services, mobile couponing and crowd-sourcing Smaato has collaborated with MSearchGroove to produce a special podcast series showcasing the three company CEOs. In the interviews, which originally aired in time for the Mobile World Congress in February, the executives also comment on the meetings with eight top-notch VCs – high-level introductions that are part of the Smaato Award. The complete podcast series can be found at www.msearchgroove.com.
Moving forward, Smaato will join MSearchGroove's growing roster of contributors and collaborators. MSearchGroove showcases thought leadership from a select group of partners and supporters including Tego Interactive, a company delivering delivers digital strategy and execution for startups, brands and mobile network operators worldwide; Bango, a mobile payments and mobile analytics provider; Taptu, a mobile search provider; and Netsize a mobile commerce and communications provider on topics ranging from usability and user experience to mobile industry mega-trends. In addition, MSearchGroove publishes exclusive columns from leading industry executives including Colm Healy, Vice President of EMEA Services for Qualcomm Internet Services (QIS) and General Manager of Xiam Technologies, and Antti Öhrling, Co-Founder of Blyk, the messaging media that works with mobile operators to link young people with brands and other stuff they like.
About MSearchGroove
At the intersection of content and context
Peggy Anne Salz is the Chief Analyst and Founder of MSearchGroove (MSG), a top 50 influential technology site* providing analysis and commentary on mobile search, mobile advertising, and social media. She also leads a team of committed mobile authorities to produce bespoke research, white papers, thought leadership columns & commentary, sponsored podcasts, and editorial content for the mobile industry. Her report, "Mobile Search & Content Discovery," was regarded as the first in-depth study of its kind, establishing Peggy as an authority on mobile search and content discovery technologies, enabling media companies and mobile operators to monetize content and services. Her most recent series of practical how-to white papers covers the basics of mobile advertising and mobile analytics, earning her a reputation as a leading mobile advertising expert. Her published work, which includes more than 300 articles on the mobile industry, has appeared in magazines and online destinations such as The International Herald Tribune, The Wall Street Journal, Mobile Entertainment, New Media Age, and in the Agile Minds column in EContent magazine, among many more.
For more information, please visit www.msearchgroove.com.
About Smaato Inc.
Smaato is a pioneering mobile advertising company that operates the mobile ad optimization platform called SOMA (Smaato Open Mobile Advertising) and partners with mobile publishers, developers, ad networks and operators. More than 3,000 publishers have signed up with Smaato as a partner to monetize their content in 215+ countries and Smaato is managing 4 billion ad requests per month.
SOMA's unique feature is the aggregation of 35 leading ad networks globally to maximize mobile advertising ARPU. SOMA can be easily integrated with ad networks, ad inventory owners (publishers, developers and operators) and 3rd party ad technology providers. Smaato is an active member of the Mobile Marketing Association, the dot.mobi Advisory Group and the German Digital Media Association BVDW. Smaato received a Top 100 Private Company Award by AlwaysOn Media (2009 & 2007) and was an Andrew Seybold Choice Awards finalist at CTIA 2008 for best Newcomer, among other awards. Smaato Inc. is based in Redwood Shores, California. The privately held company was founded in 2005 by an experienced International management team. The European headquarters are in Hamburg, Germany and the Asia-Pacific presence of Smaato has been established in Singapore.
For more information, please visit www.smaato.com .
* Konector named MSearchGroove a top 50 influential site in its recent industry report. Konector is the first company to use detailed audience analysis to rank the top blogs in order to provide marketing, advertising and PR professionals with the confidence to know which blogs have the greatest influence to promote their brands online.
For media enquiries, please contact:
Peggy Anne Salz
Email: peggy@msearchgroove.com
Mobile: +49 172 245 1028