iPhone transformed into real alternative to dedicated outdoors GPS devices
30th April 2010 – Cambridge - Award winning ViewRanger GPS from Augmentra is now available on the iTunes app store with premium map data from 13 countries including the USA, UK and Germany, so iPhone owners can now enjoy the benefits of this high quality, tried and trusted "off-road sat nav". ViewRanger GPS is designed for anyone looking to optimise their time outdoors, and is already a favourite app of walkers, cyclists, and other outdoors enthusiasts.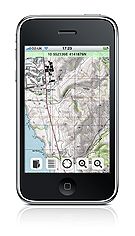 ViewRanger GPS for iPhone
By downloading ViewRanger GPS, customers install the benefits of a more-expensive stand-alone GPS navigation system onto their iPhone. The app uses the phone's GPS capability and comes with inclusive credit to install a large area of premium national survey topographic mapping for the user's choice of area.
The app is easy to use and the interface will be familiar and intuitive to iPhone users, as it makes full use of the multi-touch, swipe and pinch finger control features. Just a couple of taps are required to download routes or map tiles relevant to your location. Maps are then cached on the handset so that no data connection is required in use, and loading and refresh is extremely fast. Users can even create their own tracks for others to follow, and share routes and points of interest. Its speed and reliability has seen ViewRanger GPS adopted by Search and Rescue teams and other outdoor professionals.
Augmentra has created relationships with in-country mapping agencies and content partners across the world. This includes National Geographic in the USA, Ordnance Survey in Great Britain, Bundesamt fur Kartographie und Geodesie (BKG) in Germany, and partners in a further ten countries.
Dan Ortiz, Vice President, Products, Marketing & Operations for National Geographic Maps, comments that, "We are excited to offer detailed topographic maps of the United States to a growing number of smartphone users. There is a generation of people that have grown up with vehicle sat-navs and internet-based maps who may rarely use topographic maps. ViewRanger GPS captures this audience, and by making it easy to follow a topographic map on their phone, it will allow them to venture into the outdoors with confidence."
ViewRanger GPS also exploits the connected nature of the iPhone to provide users with mobile access to a growing catalogue of downloadable outdoor route content from well known branded partners, including the AA, Walkingworld, Excellent Books and local tourist boards. It is easy to download routes and map tiles over the air.
David Stewart of Walkingworld, a route content partner in the UK, comments,
"We are delighted to have our walks available on direct download to iPhone through ViewRanger. With over 5000 routes on the Walkingworld site, one of the great advantages of our content is that people can find a walk wherever they happen to be. Being able to follow the route on a map and get instructions and pictures direct to the mobile phone is a real benefit to our members. ViewRanger remains the only mobile mapping app that supports our routes in all their detail. It is even better that the facility is free to those who have paid our modest annual subscription."
ViewRanger GPS for iPhone is available from Apple iTunes app store priced at USD24.99 /GBP14.99 and comes with inclusive credit that can be used to purchase downloadable map tiles and route content within the ViewRanger GPS application. Further content can be accessed through in-app purchasing.
- ENDS -
Notes for Editors
Functionality in the launch version of ViewRanger GPS for iPhone includes...
Premium topographic mapping (13 countries, more being added). Includes National Geographic, Ordnance Survey, BKG, IGN, IGN BE, NLS Finland, ...

Works in portrait & landscape orientations of phone

Multi-touch support, such as pinch gestures to zoom in and out

Maps are cached on handset, so no mobile network required in use

Use in-app purchasing to add more premium maps from growing map library

Create, draw and plot your own routes on the iPhone handset

Plot points of interest

Record your gps track - get statistics on distance, speed, height gain/loss, etc.

Wide range of coordinates supported - national grid; lat/lon; ITM; UTM

Use imperial, metric and nautical units

Import routes, POIs, and tracks to ViewRanger from third-party sites and software using GPX files

Export tracks, routes and POIs from ViewRanger via GPX files

Share routes, pois, and tracks with ViewRanger users on Symbian and Android handsets

Just two taps to download routes or map tiles at your location.

Screen proximity switch - automatically locks the screen if you put the phone in your pocket or rucksack - but continues to record your track.
Images library at: http://www.bit.ly/ViewRanger_iPhone
For further information about ViewRanger/Augmentra, please contact:
Helen Goldrein/Rachel Holdsworth, PR consultants, Holdsworth Associates
Tel: 01954 202789 Email: helen@holdsworth-associates.co.uk
About Augmentra Ltd.
(http://www.viewranger.com/)
Augmentra is the software development company behind ViewRanger™, the award winning mobile phone application which delivers GPS navigation, mapping and location-based content to outdoor activity enthusiasts and outdoor professionals worldwide.
ViewRanger has been running on a range of Symbian S60 mobile devices for over two years and in 2010 launched on Apple iPhone and certain Android OS Smartphones
Versions of ViewRanger either provide global map coverage from OpenStreetMap, or Premium topographic map data available for a growing number of countries including Belgium, Finland, France, Germany, Great Britain, Holland, Ireland, parts of Italy, Norway, Slovenia, Sweden, Switzerland, USA.
The ViewRanger application works with Facebook to allow web based sharing and can be integrated with Twitter to allow location based "mash-ups".
Augmentra is partnered with national mapping agencies across Europe and with a range of content publishers, including National Geographic in North America, and Ordnance Survey in the UK.
Follow Augmentra at www.twitter.com/viewranger