UK. 4th May 2010 – Panasonic today announced upgrades to its Panasonic Toughbook® CF-52 semi-rugged notebook and the business-rugged Toughbook® CF-T8 tablet-alternative notebook computer, adding increased processor speeds, memory and Gobi mobile technology.
The Toughbook CF-52 now runs on the Intel® Core i5 (up to 2.53GHz) processor and includes 2GB RAM and up to a 250GB shock-mounted hard drive with quick release.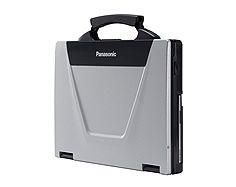 CF-52 closed with handle
The upgraded Toughbook CF-52 also includes a range of new embedded wireless options, including Gobi™ 2000 mobile broadband technology from Qualcomm. Gobi 2000 simplifies multi-carrier wireless deployments for IT departments and allows a company's mobile workforce improved connectivity options while traveling at home or abroad and adds A-GPS capabilities for easy integration with mapping software. Additionally the device has been upgraded with the latest Intel® Wi-Fi chipset and Bluetooth® 2.1. The Toughbook CF-52 is designed so Wi-Fi, Bluetooth, 3G mobile broadband and, in the near future, WiMax modules can be optionally embedded into the same unit, permitting a high level of flexibility for mobile data access.
The Toughbook CF-52 has been drop and spill-tested and features a magnesium alloy case. For use in dark or low-light operating conditions, the touchscreen model also comes with an adjustable dual overhead keyboard light with four brightness levels allowing users to regulate the lighting to fit the environment.
The Toughbook CF-52 comes in three basic configurations.
Toughbook CF-T8 now with Microsoft Windows 7, improved processor and storage
The updated Toughbook CF-T8, designed for Walking Workers in areas such as healthcare sales or market research agents, now features a 1.6GHz Intel® Core™2 Processor with vPro™ technology (3MB L2 cache and 800MHz FSB) and a removable 250GB shock mounted flex-connect hard drive. Other improvements include the use of Microsoft Windows® 7 Professional (with XP downgrade option) and Bluetooth® 2.1. The device delivers up to 8 hours of battery life.
The Toughbook CF-T8 also includes optional integrated Gobi™ mobile broadband technology from Qualcomm Inc. that allows connections to high-speed mobile Internet services offered by leading network operators virtually anywhere in the world. Other wireless features include Intel® Wireless WiFi 802.11a/b/g/n and Bluetooth® 2.1.
Designed with input from "walking workers," the Toughbook CF-T8 features a 12.1" inch, anti-glare XGA touchscreen LCD, stylus, screen rotating software and convenient rubber hand strap for easy use.
Backed by outstanding service
Every Toughbook comes with a 3-year warranty covering hardware failures for systems used as designed; with a 96-hour repair commitment and a 5-year spare parts guarantee.
Availability
The upgraded Toughbook CF-52 and CF-T8 are available immediately.
Full data specifications sheets available at:
http://www.toughbook.eu/sites/default/files/factsheet/SpecSheet-CFT8-Mk4.pdf
http://www.toughbook.eu/sites/default/files/factsheet/CF52_Mk3_specsheet_GB_high_web.pdf
About Panasonic
Panasonic Corporation is a worldwide leader in the development and manufacture of electronic products for a wide range of consumer, business, and industrial needs. Based in Osaka, Japan, the company recorded consolidated net sales of 7.77 trillion yen (US$78.4 billion) for the year ended March 31, 2009. The company's shares are listed on the Tokyo, Osaka, Nagoya and New York (NYSE: PC) stock exchanges. For more information on the company and the Panasonic brand, visit the company's website at http://panasonic.net.
Press contact:
Paul Smith
paul@ambergroup.net
Tel: +44 (0)7770 828525