Free navigation for all customers
Pre-installed navigation software for GPS-enabled mobile phones
Download option for existing customers for more than 40 mobile phones
MUNICH. Telefónica O2 Germany is giving its customers a complete search, mapping and navigation system, effective immediately. It doesn't matter whether you are travelling by car or on foot: almost any GPS-enabled mobile phone will become a pocket-sized route planner with Telmap Navigation – including the latest traffic information from ADAC.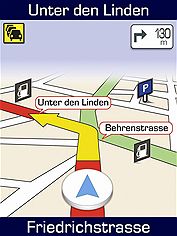 O2 Germany In-car Navigation
Telmap Navigation uses spoken and graphical navigation instructions to guide the user to the desired destination in a precise and step-by-step manner. It is as reliable and easy as a conventional in-car navigation system. The solution is also ideal for pedestrians. For example, you can navigate to the most important sights when visiting a city and at the same time search for any bars, restaurants or hotels that are close by. O2 offers this service to its customers for FREE – regardless of whether it is a prepaid or fixed-term agreement. The only fees are for the mobile data transfer and so O2 recommend the mobile surf flat rate for customers who do not already have a data plan.
All you need is an O2 GPS-enabled mobile phone. Effective immediately, Telmap Navigator is preinstalled on many new GPS-enabled mobile phones. Customers who are already using GPS-enabled mobile phones can download the new free solution directly to their phones at http://wap.telmap.com/o2de/. Telmap Navigator is already available on numerous devices, for example for the Motorola Milestone, HTC Touch HD2, Samsung Galaxy and Sony Ericsson W995. A version for Palm WebOS is planned for the summer of 2010.
About Telefónica O2 Germany GmbH & Co. OHG
Telefónica O2 Germany GmbH & Co. OHG belongs to Telefónica Europe and is part of the Spanish telecommunication group Telefónica S.A. The Company offers its German private and business customers postpaid and prepaid mobile telecom products as well as innovative mobile data services based on the GPRS and UMTS technologies. In addition, the integrated communications provider also offers DSL fixed network telephony and high-speed internet. Telefónica Europe has 49 million mobile and fixed network customers in Great Britain, Ireland, the Czech Republic, Slovakia and Germany.
More information:
Telefónica O2 Germany GmbH & Co. OHG
Press Relations
Albert Fetsch, spokesman
Georg-Brauchle-Ring 23-25
80992 Munich
t +49 (0) 89 2442-1220
f +49 (0) 89 2442-1209
e albert.fetsch@o2.com
www.o2.de/presse

About Telmap
Telmap is a world leader in location solutions. The company has established a solid reputation for providing its customers with innovative, value added mapping and navigation solutions that open new business opportunities and generate new revenue streams. Telmap has a unique end-to-end solution including a mobile location companion, a complementary web companion, robust location platform with a set of APIs to support its customers in delivering a strong LBS strategy. The company's flagship product, Telmap5 is the world's first personalized location companion integrating innovative and patented technologies including Telmap Active Interface, Telmap Active Search and Telmap Active Widgets.
Telmap is the #1 choice of location solution and its technology has been selected by leading industry players Orange FT Group, Vodafone, Vodacom, SFR, O2, Telefonica, AOL, Pelephone, Carphone Warehouse and more.
For more information, please visit http://www.telmap.com/
For further information on Telmap, please contact Mi liberty:
Rachael Parker
Telephone: +44 (0) 20 7751 4444
Email: telmap@miliberty.com