Sonim and global partners provide end-to-end GPS safety solution for solitary and at-risk workers in tough environments
San Mateo, CA – June 17th, 2010 – Sonim Technologies, the makers of the world's most rugged phones, today announces the Sonim XP3 Sentinel (http://www.sonimloneworker.com/), the cornerstone of a new safety solution for Lone Workers. Custom-designed for vertical markets including the energy, utilities, construction, security, forestry and logistics sectors, the XP3 Sentinel will keep remote workers safe while in isolated and hazardous environments.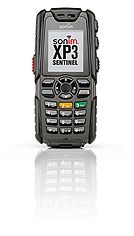 Sonim XP3 Sentinel
Peoplesafe (UK), TrackaPhone (UK), SafelinQ (global) and GEOS Alliance (US/Canada) are Sonim's launch partners for the monitoring services and servers announced today. Together with these partners, Sonim's XP3 Sentinel provides an end-to-end safety solution that also includes an emergency response call center and uses the voice and data capabilities of a mobile network operator.
The Sonim XP3 Sentinel is engineered to exceed the toughest tests: it can be dropped from 2 metres onto concrete, submerged in one metre of water for up to 30 minutes and operate in temperatures from -20 to +55 Celsius. The phone has a Gorilla glass screen and meets the military-level MIL-810F certification for resistance to humidity, salt, shock and heat. The uniquely designed keypad makes it easy to use with gloved or wet hands and its 110 decibel speakers can be heard over machinery or sirens. In addition, the ergonomic design enables mobile workers to change settings and make adjustments to the phone easily, helping them stay focused on the task at hand.
"No matter how harsh the situation, the Sonim XP3 Sentinel is the ultimate safety phone for Lone Workers in extreme environments," said Bob Plaschke, CEO of Sonim Technologies. "Featuring high performance GPS, dedicated emergency alarm buttons, and a 'man-down' motion sensor that can detect impact, tilt, free fall and no-movement, the Sonim XP3 Sentinel has been configured to work hand-in-glove with the advanced 24x7 monitoring services of our partners."
"We've worked closely with Sonim to ensure this mobile phone fulfills the needs of hard hat wearing Lone Workers in water, electricity and gas utilities, the building and construction trades and the farming, manufacturing and logistics sectors, to name a few", said Ian Johannessen, Managing Director of Peoplesafe.
"The pressure on employers to demonstrate duty of care for their field employees is ever increasing and they are looking to technology to provide a solution," said Martin Worth, Director at TrackaPhone. "Coupled with our leading monitoring capabilities, offered through global GSM networks and our emergency response centre partners, the XP3 Sentinel forms a comprehensive approach to meeting and exceeding the duty-of-care requirements under UK Law."
"The XP3 Sentinel handset combined with SafelinQ´s Safety solution allows employers to fulfil their duty of care, whilst providing a lifeline to their employees, even in the toughest environments," said Martijn van Bree, CEO of Safelinq International BV. "The aim for excellence is the basis of this partnership, ensuring an end-to-end solution that is as robust as the Sonim handset."
"The pairing of the high quality Sonim XP3 Sentinel with the world class emergency monitoring and response services of GEOS (Travel Safety Group Ltd) has resulted in a safety and security program second to none and we are very pleased to have collaborated with Sonim in the creation of this excellent and potentially life -saving service, " said Bob Davis, President of GEOS".
RED, AMBER & GREEN BUTTONS
The Sonim XP3 Sentinel features risk management buttons (red, amber and green) simplifying the user interface and requiring no menu selections by the user. This user interaction is powerfully customized by each of Sonim's monitoring partners through their specific configuration of the XP3 Sentinel's flexible capabilities. A typical configuration is as follows:
Emergency Red Button: In emergencies, the user presses the dedicated red button on the side of the phone, even if the phone keypad is locked. This causes the user's GPS location to be sent to the monitoring centre, where the position appears on a map with other relevant data. A call is automatically placed to the emergency monitoring center to summon assistance. After the call, the GPS tracking will continue until the incident is resolved and the phone is remotely reset. On a full battery, GPS tracking can continue for around 24 hours at three minute intervals. For maximum reliability, Sonim has implemented red button capabilities natively in the phone's firmware.

Amber Alert Button: With the amber key, the lone worker can request enhanced monitoring and tracking if they are going into a risky situation. The monitoring service may track the worker on a map and remind the user to use the phone keypad to acknowledge their safety every ten minutes until they cancel the amber alert.

Green Button: The green key may be used to indicate that the user has started or ended their working shift.
For workers in risky situations, perilous environments or violence-prone situations, the Sonim XP3 Sentinel meets the device requirements of the newly issued British Standard BS8484 device requirement for Lone Worker Devices and Monitoring Stations. Sonim's UK partners have used these capabilities to ensure the complete solution meets and exceeds the duty-of-care requirements under UK Law, toughened in 2008 with the passage of the Corporate Manslaughter Act. The XP3 Sentinel has also been designed to meet the device requirements of German Lone Worker standard DIN 0825-11. For more information please visit http://www.sonimloneworker.com/
FEATURES
Tested and Proven Rugged: IP-67 rating/ MIL-810G certified
Submersible to 1 metre for 30 minutes in water: Protected against damage from rain, fog, salt Impervious to dust and micro-particles: Non porous casing blocks entry of micro-particles
Impact Proof: Withstands 2 metre drops on concrete
Ready for Extreme Temperatures: Works in temperatures ranging from -20˚C to +55˚C
Long Battery Life: Typically 24 hours of GPS tracking time at three minute intervals
Durable Mechanics: Keypad buttons tested to 850,000 pushes
Screen Toughness: Gorilla Glass lens for extreme shock and scratch resistance
Lone Worker Applications: Dedicated color coded keys
Man Down Functionality: 3 axis accelerometer, configurable to detect different events
GPS Tracking: GPS capabilities optimized for emergency tracking
Rugged Camera: 2 Mega Pixel camera with LED flash
RUGGED PERFORMANCE STANDARDS
No technical standard fully captures the endurance of the Sonim XP3 Sentinel – so Sonim tests to its own stringent Rugged Performance Standards that can be found at http://www.sonimtech.com/rps.php.
Backed by Sonim's industry-leading 3-year unconditional guarantee, the Sonim XP3 Sentinel will keep workers safe and connected – no matter where they are.
ABOUT SONIM TECHNOLOGIES
Sonim Technologies (www.sonimtech.com) is the leading provider of premium-quality submersible, ruggedized mobile phones designed and engineered specifically for people who work and play outdoors or in less than pristine industrial environments. Sonim's XP family of phones feature outstanding craftsmanship, extreme resilience and an industry-leading unconditional three year guarantee that has redefined consumers' expectations of rugged technology. The company, headquartered in San Mateo, California, has sold phones in over 50 countries and operates in 16 countries
- End-
Media Contact: Virginia Jamieson
v.jamieson@sonimtech.com; +1 650-279-8619
Media Contact (UK): Emma Bakker
ebakker@red-robin.co.uk; +44 782-432-4888