10ZiG Technology, specialists in virtual desktop endpoint hardware and software, has always remained on the cutting edge of VDI technology, and its newly redesigned logo depicts this more so than ever.
LEICESTER, UK – For nearly two decades, 10ZiG Technology has been known for its cutting-edge devices, advancing endpoint management software, and exceptional tech support in the VDI space. Unlike other vendors where VDI endpoints are just one of many small areas of their business, the 10ZiG focus has always solely been the development of Thin & Zero Client endpoints for virtual desktops.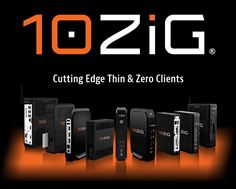 10ZiG New Logo Reveal
Coming off the heels of being named one of the ten most promising virtualization solution providers of 2018 by CIO Review Magazine, several recent and impressive hardware introductions, ever-evolving, Cloud-ready endpoint management software, and an amazing few years in terms of business growth and resource expansion, the 10ZiG brand is also kicking things up a notch with a full logo redesign. The launch of this newly made-over logo complements this momentum and the numerous accomplishments the company has seen as of late.
The modern look and techy feel of the brand new 10ZiG logo trumps all previous logos, outdoing branding in terms of clout, authority, and inventiveness, just as 10ZiG outdoes its previous hardware and software designs and upgrades time and time again.
Jamie Heinz, Global Vice President of Marketing for 10ZiG explains: "A few years back, we went through a full rebrand of our branding colors, a logo improvement upgrade, and launched a brand-new website. We converted our company colors to black and orange for a bolder, more high-level feel which also incorporated a minor logo redesign at that time. Fast forward to today, the 10ZiG brand has gained such clout and reputation in the industry, that we felt the timing was perfect for a complete logo facelift and feel compelled to display who we are in terms of authority, highly-quality, confidence, and advanced technology. These are all the things that 10ZiG truly is and we wanted to remake our brand, so that it speaks to these things."
The 10ZiG rebranded logo is being officially announced and revealed to the public today, May 1, 2019. The rebrand rollout touches every area of the business from marketing brochures to online presence to trade show materials to the device units themselves.
"It's an exciting time to see our brand grow alongside the client reach and business growth, as well as product innovation and development… it's all coming together, which makes it the perfect time to express what we're really all about," says Jamie.
About 10ZiG Technology®
10ZiG Technology is a world-market leader in Thin Client & Zero Client endpoint devices for virtual desktops (VDI). 10ZiG provides leading Intel and AMD based Dual and Quad Core Thin & Zero Clients for VMware Blast Extreme & PCoIP, Citrix HDX, Microsoft, and Parallels environments, in addition to the widest range of Teradici PCoIP Zero Clients on the market. 10ZiG offers free, no-obligation demo devices, Technical Support teams based in the U.S. and Europe, and provides The 10ZiG Manager™ – an endpoint management software solution with Cloud capabilities completely free with unlimited user licenses supported. Free evaluation devices are available at 10ZiG.com. For more on 10ZiG, visit www.10zig.com
Contact Us
To learn more about cutting-edge VDI technology from 10ZiG, or to arrange for a FREE Thin or Zero Client demonstration device, please contact 10ZiG below.
Corporate Headquarters, US
10ZiG Technology Inc.
23309 N. 17th Drive #100
Phoenix, AZ 85027, USA
P. +1 (866) 865-5250 | Email: info@10ZiG.com | Web: www.10ZiG.com
EMEA Headquarters
10ZiG Technology Ltd.
7 Highcliffe Road
Leicester,
LE5 1TY, UK
P. +44 (0) 116 2148650 | Email: info@10ZiG.eu | Web: www.10ZiG.com
Contact: Tom Dodds
10ZiG Technology Ltd.
www.10ZiG.com
+44 (0) 116 214 8650