The Citrix Ready team has recognised 10ZiG Technology as a valuable and collaborate partner in its cutting-edge endpoints for virtual desktops that allow Citrix HDX to deliver a powerful and efficient end-to-end VDI solution for its XenApp and XenDesktop users.
LEICESTER, UK – July 19, 2018 – 10ZiG Technology, a world leader in Thin and Zero Client endpoints for desktop virtualisation – today announced that it was selected as Citrix Ready Partner of the Month for July 2018. For over a decade, 10ZiG Technology has collaborated with Citrix as a Citrix Ready partner, offering customisable endpoint devices that are qualified for HDX Ready, HDX Premium and HDX 3D Pro verification levels.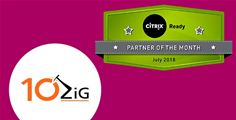 Partner of the Month
10ZiG COO Andy Martin states, "As we continue to partner with Citrix Ready, one of the major aspects we strive for at 10ZiG is lightning-fast responsiveness to their latest feature releases. This combined with our advanced and powerful endpoints, our well-integrated centralized management and our Citrix-dedicated support team puts 10ZiG at the forefront for customer satisfaction for our clients using Citrix for their VDI solution. We are delighted to have been named Citrix Ready Partner of the Month."
John Panagulias, Director, Citrix Ready at Citrix, explained, "10ZiG has made significant contributions to ensure our joint customers have successful VDI deployments and is recognized as our Partner of the Month for July. It continues to be an exciting month for both companies, as 10ZiG recently became the first endpoint provider to achieve Citrix Ready verification and supports the new H.265 video decoding ability on Citrix Receiver for Windows."
Citrix and 10ZiG are hosting a joint webinar on 25 July, 2018 where the companies will discuss the benefits of 10ZiG and Citrix for end-users and IT admins surrounding H.265.
This H.265 supported endpoint – the 10ZiG 5910q for Windows 10 IoT – is a powerful endpoint that fully supports a triple-monitor configuration, with each monitor delivering at a 4K UHD resolution. This unit also comes with a 1x HDMI / 2x DisplayPort combination and other features include Touch Technology, optional PoE, and has achieved all three levels of Citrix Ready verification.
About 10ZiG Technology®
10ZiG Technology is a world-market leader in Thin Client & Zero Client endpoint devices for Virtual Desktop Infrastructure. 10ZiG provides leading Intel and AMD based Dual and Quad Core Thin Clients and Zero Clients for Citrix (HDX, HDX Premium, HDX 3D Pro), VMware PCoIP & Blast Extreme, and Microsoft environments, in addition to the widest range of Teradici PCoIP Zero Clients on the market. 10ZiG offers free, no-obligation demo devices, Technical Support teams based in the U.S. and U.K., and provides "The 10ZiG Manager" endpoint management console with cloud capabilities completely free with unlimited user licenses supported. Get a free evaluation device today at www.10ZiG.com.
###
Contact Us
To learn more about cutting edge VDI technology from 10ZiG, or to arrange for a FREE Thin or Zero Client demonstration device, please contact 10ZiG below.
Corporate Headquarters, US
10ZiG Technology Inc.
23309 N. 17th Drive #100
Phoenix, AZ 85027, USA
P. +1 (866) 865-5250 | Email: info@10ZiG.com | Web: www.10ZiG.com
EMEA Headquarters
10ZiG Technology Ltd.
Unit S2, Troon Way Business Centre
Humberstone Lane
Leicester LE4 9HA, UK
P. +44 (0) 116 2148650 | Email: info@10ZiG.eu | Web: www.10ZiG.com
For media inquiries, contact:
Tom Dodds
10ZiG Technology
tomd@10zig.com