Leicester, United Kingdom, 17th May 2016. 10ZiG Technology today announced that its 4448c Citrix Zero Client has been verified as Citrix Ready. The Citrix Ready program helps customers identify third-party solutions that are recommended to enhance virtualization, networking and cloud computing solutions from Citrix Systems, Inc. The 4448c completed a rigorous verification process to ensure compatibility with HDX & HDX Premium for use in XenDesktop environments providing confidence in joint solution compatibility.
The Citrix Ready program makes it easy for customers to identify complementary products and solutions that can enhance Citrix environments. Customers can be confident that the 4448c has successfully passed a series of tests established by Citrix, and can be trusted to work effectively with HDX & HDX Premium Technology in order to maximize its performance in XenDesktop environments.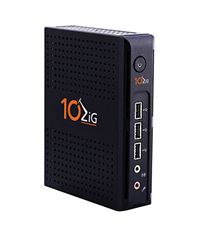 10ZiG 4448c Front
The 4448c is the 10ZiG value class Citrix Zero Client and is optimized for Citrix XenDesktop HDX environments, giving a high-quality user experience and breaking benchmarks set by previous 10ZiG value hardware. Offering an Intel 1.33GHz Dual Core processor, Dual Screen capability and VESA Mountable steel casing, this small form factor device is a serious choice for business and task users. This is the most economical, energy and space saving Citrix Zero Client hardware 10ZiG have to offer, yet still provides high-performance multimedia acceleration with HDX Technology. The 4448c complements the 10ZiG Intel 2GHz Quad Core 5848qc Zero Client (certified HDX 3D Pro) to offer a Citrix Zero Client to meet the demands of any user, from low-end task based use cases through to power use cases requiring 3D & CAD, leveraging vGPU technology empowered by HDX 3D Pro and NVIDIA GRID.

"We are pleased to have 10ZiG Technology join us in the Citrix Ready program," said Siddharth Rabindran, Director, Citrix Ready at Citrix Systems, Inc. "Citrix Ready makes it easier for customers to select the most suitable virtualization infrastructure products for their specific needs. By taking part in our program, 10ZiG Technology has enabled its customers to obtain the highest quality user experience available today, and the simplest means for making an informed product purchasing selection."
"As a member of the Citrix Ready program, we are able to offer customers intelligent solutions that combine our 4448c with HDX & HDX Premium," said Kevin Greenway, 10ZiG Technology "The offering clearly demonstrates our plans to work closely with trusted partners, through the Citrix Ready partner ecosystem, in order to provide the highest quality experience for our customers."
To learn more, or to arrange your FREE evaluation device, please contact the relevant office below.
10ZiG Technology Inc. (Corporate Headquarters, US)
1 (866)-865-5250
sales(at)10zig(dot)com
www.10zig.com
@10zigtechnology
10ZiG Technology Inc. (EU Headquarters, UK)
+44 (0) 116 214 8660
sales(at)10zig(dot)eu
www.10zig.com
@10zigtechnology
About 10ZiG Technology
Focused solely in the development of Thin and Zero Clients for the latest desktop solutions, 10ZiG Technology has long-standing partnerships with industry leaders such as Citrix. These partnerships are all with the aim of providing the best performance possible by supporting the full feature sets of acceleration protocols such as HDX, HDX 3D Pro and others. 10ZiG offers traditional dual screen Thin and Zero Clients, including the widest range of TERA2-based PCoIP devices on the market, and come with a variety of OS options, including NOS (Zero), PEAKos (Linux), Windows Embedded 7 (WES7), Windows Embedded 8 (WE8S) and Windows 10 IoT (W10 IoT).
10ZiG is committed to taking the complexity out of Desktop Virtualization, Application Delivery and The Cloud by providing Thin and Zero Clients with components that simplify implementation, improve management and visibility of devices and enhance the user experience. To further this commitment, all 10ZiG devices are accompanied by the 100% FREE enterprise class 10ZiG Manager Utility, enabling centralized configuration, maintenance and control of all 10ZiG Software Zero, Linux and Windows devices. The 10ZiG product range is underpinned by the most personal Sales and Support service on the market, and 10ZiG are willing to put it to the test through their no-obligation, no-hassle, flexible 30-day evaluation offer.
About Citrix Ready
Citrix Ready identifies recommended solutions that are trusted to enhance the Citrix Delivery Center infrastructure. All products featured in Citrix Ready have completed verification testing, thereby providing confidence in joint solution compatibility. Leveraging its industry leading alliances and partner eco-system, Citrix Ready showcases select trusted solutions designed to meet a variety of business needs. Through the online catalog and Citrix Ready branding program, you can easily find and build a trusted infrastructure. Citrix Ready not only demonstrates current mutual product compatibility, but through continued industry relationships also ensures future interoperability. Learn more at www.citrix.com/ready.

Copyright © 2015 Citrix Systems, Inc. All rights reserved. Citrix trademarks are trademarks of Citrix Systems, Inc. and/or one of its subsidiaries, and may be registered in the U.S. and other countries. Other product and company names mentioned herein may be trademarks of their respective companies.
Media Contact
Tom Dodds
press@10ZiG.com
+44 (0) 116 214 8650