Timisoara, Romania - 18 April 2016: 123ContactForm, one of the most popular web form builders in the world announces today the launch of its platform in French. Thus, the company offers a solution demanded by its French-speaking customers and is continuing the strategy of expanding its operations to international markets.
The new version works perfectly and exactly the same as the original English version, including the same advanced features and integrations. At this moment, the entire interface is completely in French, starting with the form editor, settings, reports to error messages, which facilitates the comprehension for the French speaking audience.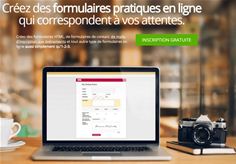 French Homepage
The French version of the platform aims to break the language barriers and follows the success of the Spanish version that was launched in 2014: "As French is spoken in several parts of the world and as it's easier for our users to find solutions in their own language, we're proud to help them", said Florin Cornianu, the founder and CEO of the company.
Moreover, the company provides more than 100 templates including contact forms, booking forms, feedbacks forms, loan application forms, surveys, as well as many 3rd party apps such as Google Drive, MailChimp, PayPal and many more. The launch brings the French community closer to a tool that is useful for data management, events, research, feedback, payment collection and more. In addition, live chat and email support in French are also available.
The French release is another step towards the expansion of 123ContactForm as the company has been growing fast and had over €1 M investment in 2015 from 3TS Capital Partners. The investment enabled the company to add many new features and service integrations, turning the platform into a more powerful and effective tool.
The service includes a free plan, as it has always been, with the possibility to upgrade to premium accounts if needed. More than ever, this is the perfect time to join their over 900.000 users worldwide.
About 123ContactForm
123ContactForm is a trustworthy and user-friendly web form builder that allows organizations to easily and securely build and customize forms or surveys without programming skills.
With 123ContactForm anyone can create from simple to complex forms or surveys and start collecting data within minutes. It is the right tool for individuals, but also for small businesses and large enterprises.
123ContactForm simplifies lead collection and administration via contact forms, lead generation forms, surveys, event registration forms and many other types. It integrates with many third party apps, such as Google Drive, SalesForce, MailChimp, PayPal, Stripe and many more. Additionally, it provides full security through antispam protection, data recovery, virus and malware protection, HTTPS connection on sign up, Backups and SSL Encryption.
Founded in 2008, in Timisoara, Romania, 123ContactForm is among the 5 top form builders in the world used by a wide diversity of businesses and institutions. For more information, visit http://www.123contactform.com/, read our blog or follow us on Facebook and Twitter.
Press Contacts
Romi Catauta
PR Specialist 123ContactForm
romi@123contactform.com
+40720 017 398