A 360° Tenant Portal system from leading social housing technology innovator 1st Touch (www.1sttouch.com) is enabling New Charter Group, one of the North West's largest housing providers to transform its mobile workforce processes and customer support strategy.
The new system delivers a single-view of all key data both for field operatives through their handheld devices and to tenants through an online portal based customer hub.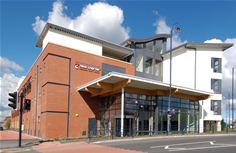 New Charter Group
New Charter Group is a social landlord based in Tameside, Greater Manchester with 19,500 homes in Tameside, Oldham and Nottingham and a turnover of £100 million. In seeking to optimise both efficiency and customer service levels, the Group recently undertook a review of their IT estate focusing on people, processes and technology. Amongst the areas of investment were mobile workforce systems and online customer self-service.
The required system needed to be an automated digital solution that placed customers at its heart, empowering them where possible to self-help through a self-service functionality, allowing them to make payments, request repairs, report anti-social behavior and carry out a host of other useful tasks. It also needed to be 'right first time' and ultimately be enterprise wide; allowing all staff, field workers and management to have a single-view of all key data, when visiting customers.
New Charter Group chose 1st Touch's widely acclaimed 360° Tenant Portal as it had class-leading usability for both field operatives and customers. It also incorporates a revolutionary Automatic Appointments system called iAppoint. This is a doorstep appointments system, which simplifies appointment scheduling through enabling live tenant interaction. This empowers tenants to schedule their own confirmed appointments with multiple departments, either online 24/7 via the customer hub or through field operatives using their handheld devices whilst visiting.
Commenting on the new solution, New Charter Group's Business Transformation Change Manager Yvonne Campbell said, "A significant increase in customer access and the introduction of class-leading mobile workforce technology are the primary drivers behind introducing 1st Touch 360°.
"Once we have fully rolled 1st Touch out, colleagues will have the digital 'single-view' technology they need to provide the best possible customer experience wherever they are. Our customers will have easy 24/7 digital access to our services through our new online customer hub, thereby reducing 'transactional' demand. There are also benefits for us as an organisation, as our Customer Insight and Business Intelligence will now drive our decision-making and actions. The combined result will be a significant boost in both efficiency and customer service levels. All in all, 1st Touch has delivered the system we required and we look forward to enjoying the potentially huge rewards that this exciting new solution offers."
For his part 1st Touch CEO Greg Johns welcomed Yvonne's comments adding, "You cannot fail to be impressed by the professionalism of New Charter Group's change strategy or the scale of the investment they have made in transforming mobile working and customer access to services. Nor can one underestimate the positive impact that this level of automation will have on their customers. The fact that customers can now resolve their own issues online through the customer hub, or have them automated by front line staff using their handhelds, is a major step forwards. The immediacy and thoroughness of this type of automation will be incredibly well received by customers and operationally this can certainly be held up as an excellent example of best-practice."
Ends
Note to Editors: About 1st Touch (www.1sttouch.com)
Southampton based 1st Touch, a subsidiary of Aareon AG (www.aareon.com), has enabled dozens of field workforce-based organisations to embrace new mobile technologies and so achieve significant savings, greater productivity and more cost-effective use of resources. 1st Touch Mobile delivers clear and unique benefits: These include the system's acclaimed 'Smart Airtime' feature where 'airtime' is minimised and the system is always available with or without 'airtime'. The system's flexibility through simple customer control over forms creation and amendment is also widely acclaimed. There is Integration to multiple back office and other enterprise software applications, so that data is entered only once.
With its widely acclaimed mobile technology, 1st Touch has a clear focus on the Social Housing and Local Government markets. Many social housing providers and local authorities, at large, now benefit from the fast and tangible, best of breed benefits that 1st Touch mobile technology delivers to the enterprise.
To date, over 50% of the social housing market, which has deployed mobile technology, has chosen to implement 1st Touch. In local government, 1st Touch has already been adopted for a wide range of mobile workforce uses. Ready to use applications for local authority organisations include: Public Buildings, Highways/Street Services, Environmental/Waste Management, Revenues and Benefits, together with Planning Control and Trading Standards.
1st Touch software is available on a wide variety of platforms including: Windows Mobile, Apple and Android.
For further information on 1st Touch please contact:
Cherry Rance
1st Touch
02380 111206
cherry.rance@1sttouch.com
www.1sttouch.com
or
Leigh Richards
The Right Image PR & Marketing Group
07758 372527
leigh.richards@therightimage.co.uk
www.therightimage.co.uk