1st Touch (www.1sttouch.com) the UK's leading developer of mobile systems for the social housing sector has announced the addition of '1st Touch 360' to its widely acclaimed range of enterprise mobile workforce software. This intuitive new dashboard solution, streamlines processes by delivering a single, 360 degree-view of all key metrics and customer data access points. As a result, all the information needed to conduct any customer visit is collated in one central easily navigable location. With such cross-functional visibility, tasks which would previously have required numerous customer visits by different teams are now resolved in one visit from a staff member operating in a multi-functional role. By significantly reducing the number of customer visits required, resources can be redirected to areas of greater need. Customer experience is another area that benefits, as outstanding issues are resolved far more quickly and effectively than before.
By this means, housing officers with 1st Touch 360 on their device can now, for example, record and request reactive repairs, update customer profiling information or liaise with the Social Landlord's Supporting People team. Similarly, responsive repairs operatives will now be able to request a gas check, take a rent payment or report related issues such as anti-social behaviour and vandalism. Any customer facing functions can be incorporated into 1st Touch 360, as specified by management, who remain in control of what is visible to and accessible by each operative. Senior management also have far superior information to base key decisions upon. With 1st Touch 360 they gain real, in-depth insight into service efficiency and can monitor KPIs such as productivity and costs more effectively. A good example of this is 'workflow for managers'. If a member of staff is off sick, they can update through 1st Touch 360 and their tasks for the day will be automatically rescheduled to the next available colleague.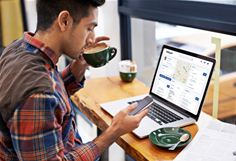 1st Touch 360
All 1st Touch mobile functions can be incorporated from estate management, care services, pre & post inspection data, incomes and payment history, social and technical inclusion status, planned maintenance and more. An innovative real-time GPS function is also included. This boosts lone worker safety and enables operatives to call for further assistance on site.
In addition to integrating all the key metrics, 1st Touch 360 provides a collaborative & social toolkit too – allowing different workplace colleagues to message, update and post to others on the system and even to identify and communicate with approved suppliers in real time.
1st Touch 360 can also be used online as a self-service tool. This enables customers to manage a range of different issues themselves at a convenient time from the comfort of their home & through their own devices. All details recorded or actioned using 1st Touch 360 are automatically updated in the housing provider's back office Housing Management System; irrespective of the system used. Importantly, 1st Touch 360 can also be implemented regardless of the mobile vendor deployed. This negates any risk of proprietary mobile lock-ins.
Robert Dent CEO of 1st Touch believes that by exploiting the advantages of technology, the new 1st Touch 360 solution could change the interface between social landlords and their customers. He notes, " We have always steered our development plans to meet the evolving needs of our customers. By listening closely to what they have told us, we realise how important driving Value For Money is as a central part of their strategy. This of course involves the reduction of cost and increases in productivity and efficiency. However, there is also an imperative to enhance the customer experience and to raise service levels. 1st Touch 360 helps to achieve all these aims, streamlining customer facing processes by enabling staff to become multi-functional. By reducing the number of visits required significantly it frees up hard-pressed resources for use in other areas with even greater need. Ultimately, I expect that best practice for many organisations may well change to reflect the advances that this new technology has made. "
ends
Note to Editors: About 1st Touch (www.1sttouch.com)
Southampton based 1st Touch, a subsidiary of Aareon AG (www.aareon.com), has enabled dozens of field workforce-based organisations to embrace new mobile technologies and so achieve significant savings, greater productivity and more cost-effective use of resources. 1st Touch Mobile delivers clear and unique benefits: These include the system's acclaimed 'Smart Airtime' feature where 'airtime' is minimised and the system is always available with or without 'airtime'. The system's flexibility through simple customer control over forms creation and amendment is also widely acclaimed. There is Integration to multiple back office and other enterprise software applications, so that data is entered only once.
With its widely acclaimed mobile technology, 1st Touch has a clear focus on the Social Housing and Local Government markets. Many social housing providers and local authorities, at large, now benefit from the fast and tangible, best of breed benefits that 1st Touch mobile technology delivers to the enterprise.
To date, over 50% of the social housing market, which has deployed mobile technology, has chosen to implement 1st Touch. In local government, 1st Touch has already been adopted for a wide range of mobile workforce uses. Ready to use applications for local authority organisations include: Public Buildings, Highways/Street Services, Environmental/Waste Management, Revenues and Benefits, together with Planning Control and Trading Standards.
1st Touch software is available on a wide variety of platforms including: Windows Mobile, Apple and Android.
For further information on 1st Touch please contact:
Sally Cops
1st Touch
02380 111206
sally.cops@1sttouch.com
www.1sttouch.com
or
Leigh Richards
The Right Image PR & Marketing Group
07758 372527
leigh.richards@therightimage.co.uk
www.therightimage.co.uk