1st Touch (www.1sttouch.com) the UK's leading developer of mobile systems for the social housing sector has appointed Imran Ali as Senior Account Manager. In his new role he will be responsible for sales of Enterprise Mobile Workforce solutions including those for use by: Housing Officers, Responsive Repairs Operatives, Incomes Managers and Voids teams. He will also drive sales for Self-Service products and the recently introduced 1st Touch 360 range. Previously, Imran held senior sales positions with Experian, Frog Education and Serco.
Commenting on his appointment Robert Dent the CEO for 1st Touch noted, "Imran has tremendous experience of working with a number of market leading companies. This should prove invaluable here, working with the leading supplier of mobile workforce technology to the social housing and local government sectors. I welcome him aboard and look forward to working closely with him."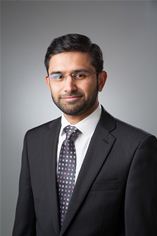 Imran Ali of 1st Touch
Imran Ali welcomed Dent's comments adding, "Not only does 1st Touch have an excellent range of market-leading mobile workforce products but it also has a first rate track record of customer service and support. I look forward to building upon the existing success story."
Ends
Note to Editors: About 1st Touch (www.1sttouch.com)
Southampton based 1st Touch, a subsidiary of Aareon AG (www.aareon.com), has enabled dozens of field workforce-based organisations to embrace new mobile technologies and so achieve significant savings, greater productivity and more cost-effective use of resources. 1st Touch Mobile delivers clear and unique benefits: These include the system's acclaimed 'Smart Airtime' feature where 'airtime' is minimised and the system is always available with or without 'airtime'. The system's flexibility through simple customer control over forms creation and amendment is also widely acclaimed. There is Integration to multiple back office and other enterprise software applications, so that data is entered only once.
With its widely acclaimed mobile technology, 1st Touch has a clear focus on the Social Housing and Local Government markets. Many social housing providers and local authorities, at large, now benefit from the fast and tangible, best of breed benefits that 1st Touch mobile technology delivers to the enterprise.
To date, over 50% of the social housing market, which has deployed mobile technology, has chosen to implement 1st Touch. In local government, 1st Touch has already been adopted for a wide range of mobile workforce uses. Ready to use applications for local authority organisations include: Public Buildings, Highways/Street Services, Environmental/Waste Management, Revenues and Benefits, together with Planning Control and Trading Standards.
1st Touch software is available on a wide variety of platforms including: Windows Mobile, Apple and Android.
For further information on 1st Touch please contact:
Sally Cops
1st Touch
02380 111206
sally.cops@1sttouch.com
www.1sttouch.com
or
Leigh Richards
The Right Image PR & Marketing Group
07758 372527
leigh.richards@therightimage.co.uk
http://www.therightimage.co.uk/