1st Touch (www.1sttouch.com), the UK's leading system innovator for the social housing sector, has announced the launch of iAppoint. The all-new self-service module will help social landlords to streamline customer appointment scheduling by speeding up and enhancing the processes involved. In addition, as online services cost only a fraction of call centre responses, the potential cost savings for landlords are also significant.
As iAppoint is linked to the landlord's back office system, the highly accessible technology combines all the key data relating to a tenant, their property and the landlord's resources together with an online self-service appointment system. This easy-to-use solution allows tenants to schedule the right appointments first time, either through a visiting field operative's device or directly online through their landlord's self-service tenant-portal and app. These appointments might be for: responsive repairs, gas or electric checks, financial inclusion reviews, social care assessments or more.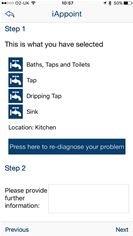 iAppoint
Once made, appointments are then confirmed to the tenant by text in advance. The text advice system can be tailored to add the name and photo of the staff member designated to resolve the issue, along with an estimated time of arrival and their contact details. In addition to booking the appointment, the tenants are also able to prioritize or rearrange the appointments made, order additional text reminders and book any follow up actions required. There is also a facility to add voice notes, photos and even video.
Recent research by 1st Touch has confirmed that tenants greatly appreciate the flexibility and responsibility afforded by booking appointments online, through their own devices 24/7/365. The financial benefits for the landlord are significant too. Industry calculated cost comparisons show that online appointment bookings reduce the average call centre cost from £6-£10 to less than £1 via iAppoint. Over the course of a year the prospective savings from 10,000s of online appointments are therefore significant. The resources saved are then free for landlords to reinvest in their customer care or tenant services.
Commenting on the launch Greg Johns CEO of 1st Touch noted, "The incredibly positive customer-response impact gained from automating the scheduling function, is of significant interest to all customer-centric landlords. It really is a significant step forward both in terms of customer service and efficiency. And from our own research, we now know that those social landlords that invest in this kind of technology will see a rapid, significant and valuable customer-service dividend. In addition, one cannot ignore the enormous financial benefits available either, as landlords can save over £6 for every appointment made online. As the resources saved can be invested into other customer-focused services, it really is a win win situation."
Ends
Note to Editors: About 1st Touch (www.1sttouch.com)
Southampton based 1st Touch, a subsidiary of Aareon AG (www.aareon.com), has enabled dozens of field workforce-based organisations to embrace new mobile technologies and so achieve significant savings, greater productivity and more cost-effective use of resources. 1st Touch Mobile delivers clear and unique benefits: These include the system's acclaimed 'Smart Airtime' feature where 'airtime' is minimised and the system is always available with or without 'airtime'. The system's flexibility through simple customer control over forms creation and amendment is also widely acclaimed. There is Integration to multiple back office and other enterprise software applications, so that data is entered only once.
With its widely acclaimed mobile technology, 1st Touch has a clear focus on the Social Housing and Local Government markets. Many social housing providers and local authorities, at large, now benefit from the fast and tangible, best of breed benefits that 1st Touch mobile technology delivers to the enterprise.
To date, over 50% of the social housing market, which has deployed mobile technology, has chosen to implement 1st Touch. In local government, 1st Touch has already been adopted for a wide range of mobile workforce uses. Ready to use applications for local authority organisations include: Public Buildings, Highways/Street Services, Environmental/Waste Management, Revenues and Benefits, together with Planning Control and Trading Standards.
1st Touch software is available on a wide variety of platforms including: Windows Mobile, Apple and Android.
For further information on 1st Touch please contact:
Cherry Rance
1st Touch
02380 111206
Cherry.rance@1sttouch.com
www.1sttouch.com
Or
Leigh Richards
The Right Image PR & Marketing Group
07758 372527
leigh.richards@therightimage.co.uk
www.therightimage.co.uk