A2Dominion, a leading housing provider and property developer in London and the South East, has chosen 1st Touch mobile (www.1sttouch.com) software to support its income collection teams, whilst helping customers understand and adjust to welfare reform changes.
The Group offers high quality sustainable homes for sale, shared ownership and rent with over 34,000 homes in ownership and management, and over 4,600 new properties in the development pipeline. With a head office in Paddington, A2Dominion is a member of the g15, a group that represents London's 15 largest housing associations.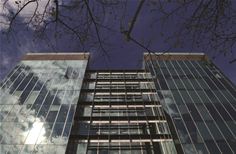 A2Dominion's offices
With the recent introduction of welfare reforms, A2Dominion decided that it needed to implement new proactive management processes that could both support the collection of income from tenants whilst helping those who might face difficulty. The new strategy involved boosting personal engagement with the customers and to do this A2Dominion wished to identify a new mobile solution to support its Income Officers in the field.
Following a review of the solutions available on the market, the Group chose 1st Touch. The key driver behind the choice was that the system is platform agnostic and that this would allow the use of Android handsets. 1st Touch, the market leader for mobile solutions in the social housing market, was also capable of ensuring that over 70 Income Officers would have all the information and forms they need at their fingertips when they are visiting tenants. This includes benefit calculators and data on transactions, balances and payments.
With the new system in place, A2Dominion's Civica housing management system raises an arrears file as an action in its back-office CRM system and in turn this system sends it to 1st Touch. This information is then forwarded to the appropriate Income Officer's mobile device with all the information relevant to that case.
In addition to increasing the amount of rent collected, it is expected that the new system will allow Officers to increase the time they can spend on visits whilst helping tenants. Other benefits expected include potential savings in mileage, print and stationery costs. In addition, customer satisfaction is expected to increase too.
Summarising the new mobile application Trevor Whittaker, Head of Business Systems at A2Dominion, said: "Following the introduction of welfare reform, we needed to implement new management processes proactively that would both support the collection of income but also enable us to explain the changes to our residents in person. To do this we needed to identify a mobile solution capable of supporting these two objectives and 1st Touch ticked all the boxes. With 1st Touch in place, we aim to significantly boost personal engagement and thus help tenants to understand the changes at an early stage. Overall we expect to see a very positive impact from the introduction of mobile technology."

Looking to the future A2Dominion is looking at expanding its use of mobile technology into supporting estate inspections and tenancy management too.
Commenting on the news, Robert Dent CEO of 1st Touch added, "When faced with the challenges of the welfare reforms, A2Dominion has adopted new management practices that put its tenants first through a programme of personal engagement. This means, of course, that when the Income Officers visit customers they need to have easy access to all the key information and the forms they require. We are delighted that they have chosen 1st Touch to deliver this and knowing that the technology has been developed to help tenants cope with the impact of welfare reforms is especially rewarding too. We look forward to working closely with them as they identify other areas of their business where mobile technology could have an equally positive impact."
Ends
Note to Editors:
About 1st Touch (www.1sttouch.com)
Southampton based 1st Touch, a subsidiary of Aareon AG (www.aareon.com), has enabled dozens of field workforce-based organisations to embrace new mobile technologies and so achieve significant savings, greater productivity and more cost-effective use of resources. 1st Touch Mobile delivers clear and unique benefits: These include the system's acclaimed 'Smart Airtime' feature where 'airtime' is minimised and the system is always available with or without 'airtime'. The system's flexibility through simple customer control over forms creation and amendment is also widely acclaimed. There is Integration to multiple back office and other enterprise software applications, so that data is entered only once.
With its widely acclaimed mobile technology, 1st Touch has a clear focus on the Social Housing and Local Government markets. Many social housing providers and local authorities, at large, now benefit from the fast and tangible, best of breed benefits that 1st Touch mobile technology delivers to the enterprise.
To date, over 50% of the social housing market, which has deployed mobile technology, has chosen to implement 1st Touch. In local government, 1st Touch has already been adopted for a wide range of mobile workforce uses. Ready to use applications for local authority organisations include: Public Buildings, Highways/Street Services, Environmental/Waste Management, Revenues and Benefits, together with Planning Control and Trading Standards.
1st Touch software is available on a wide variety of platforms including: Windows Mobile, Apple and Android.
For further information on 1st Touch please contact:
Cherry Rance
1st Touch
02380 111206
cherry.rance@1sttouch.com
www.1sttouch.com
or
Leigh Richards
The Right Image PR & Marketing Group
07758 372527
leigh.richards@therightimage.co.uk
www.therightimage.co.uk