Following the operational merger of 1st Touch and Aareon in July 2017, Aareon UK has announced that the two companies will complete the merger process fully on the 1st of June 2018. All services and products will now be delivered by Aareon UK Ltd (www.aareon.co.uk) under the existing management and board of directors. The move is seen as an ideal platform for investment, new product announcements and significant market growth.
The 1st Touch trade mark will remain from a brand perspective, albeit the ownership of all intellectual property rights in 1st Touch software will now pass to Aareon UK. In addition, all customers will now have one unified point of contact, one call centre and one organisation to work with, making processes even more efficient & straightforward.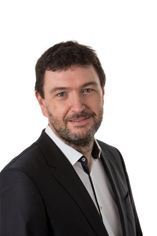 Geraint Griffiths
Both of Aareon UK's Joint MDs were keen to highlight the benefits of the move. Commenting on the changes Nigel Rees noted, "We have taken time to integrate the two companies professionally and to the benefit of all concerned. This process has proved to be extremely successful and customers are welcoming the ability to access one completely integrated market-leading solution for social housing."
For his part Geraint Griffiths added, "There are tremendous opportunities here and we aim to build on this platform quickly with significant investment plans, extensive recruitment and a host of new product announcements."
Ends
Aareon (www.aareon.com)
Aareon is the leading European Software Company providing IT solutions to the Social Housing Sector. With many years of industry specific knowledge, our position as a profitable, growing and innovative organisation enables us to set the standard for business processes in the housing sector both today and into the future.
The Aareon Product Suite provides housing providers with an enterprise-wide solution.
Aareon QL Housing, Aareon QL Financials, Aareon QL CRM, Aareon QL Asset Management, Aareon QL Personnel & Payroll, Aareon 1st Touch Mobile, Aareon 360, Aareon QL Reporting Service, Aareon QL Task Centre Alerts & EDRM.
For further information on 1st Touch / Aareon please contact:
Emma Page
Aareon UK
02476 323723
Emma.Page@Aareon.com
www.aareon.co.uk
@AareonUKLtd
or
Leigh Richards
The Right Image PR & Marketing Group
07758 372527
leigh.richards@therightimage.co.uk
www.therightimage.co.uk