Southampton 3 July 2014: A Senior Healthcare Partner with The Health Insurance Group, Paul Hopewell, has cycled from Southampton to Sheffield, 240 miles, in just 18 hours, a feat that has so far raised £9,000 and the total is still rising as the fund will be kept open for a further 24 days.
The recurring 24 is significant because this is the number of weeks at which a premature baby is considered viable, with the right support and equipment. The money raised from this epic ride will go to the King's Mill Specialist Baby Unit in Mansfield, where Paul's son was cared for 15 years ago.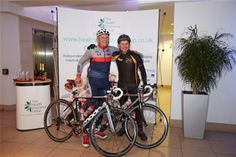 Brian Steel and Paul Hopewell at The Health Insurance Group offices in Sheffield
Paul Hopewell said: "Everybody has been so generous with their support and sponsorship contributions. I am exhausted but very exhilarated to know that we have raised over £9,000 for the unit that saved my son Ryan's life and helped raise the profile of all the specialist baby units around the country that do such fantastic work, looking after 54,000 premature babies every year."
Olympic silver and bronze medal winning pursuit cyclist Bryan Steel has been helping Paul train for the event and accompanied him on the ride. "This was a huge challenge for both of us," admits Bryan. "It shows what can be done with the right training and motivation. Paul and everyone involved should be very proud of what they have achieved for the special baby unit."
You can still donate on line at Virgin Money Giving http://uk.virginmoneygiving.com/team/240in24.
Ends
For further PR information please contact:
Helen Doherty or Julia Vockrodt at VP Communications on 0203 282 7144 or email: helen@vp-pr.com or Julia@vp-pr.com
Notes to Editors
The Health Insurance Group
The Health Insurance Group has a nationwide team of advisers who deliver affordable medical insurance to companies and individuals alike, with high quality advice and a commitment to personal service. It prides itself on bringing its customers a unique insight into healthcare.
Its philosophy is to help people stay healthy by giving them access to the best deals on private medical insurance. This is reflected in the company's core values of wellness and wellbeing, which are prevalent in every element of The Health Insurance Group business; from its service, to its responsibility as an employer and the company's charitably efforts in the wider community and health industry.
Bryan Steel
As a boy, Bryan Steel was much like many boys, uninterested in school, and not very athletic. Then he discovered a talent, cycling. This gave him an outlet and a passion. He made the British cycling team, which at the time was not a team recognised for excellence. Bryan participated in a revolutionary change management programme that catapulted the team to the world stage and Bryan with it, going on to win, win and win on the world and Olympic stage.
From scrawny, negative schoolboy to World Class athlete, Bryan now shares the secrets of his success through his own development programme 'Winning Mindset'. With the formula for success being as applicable to the board room and business environment as it is to the playing field.