The companies' combined capabilities will create greater value for customers and set the pace in a fast-evolving industry
Amsterdam, The Netherlands, March 28, 2018: 24i Media, an industry-leading streaming applications developer for the world's top media companies, today announced that it has acquired Vigour, a leading multiscreen video platform provider. The acquisition further enhances 24i's leadership position globally and accelerates its innovation and growth, with its technology platform at the heart of its ambitions.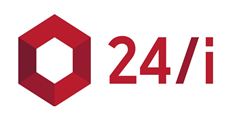 24i logo
Dutch video technology providers 24i and Vigour have joined forces to build a powerful, innovation driven partnership within the global market that will develop foundational multiscreen solutions to meet the evolving needs of today's digital subscribers. With the acquisition of Vigour, 24i executes on its vision to drive innovation for video application technology, grow its international market share and build the most talented team in the industry. For Vigour, the acquisition provides an opportunity to expand the reach of its unique multiscreen vision across a much larger network, within an environment that provides the optimal operational conditions for the execution of a shared vision.

"Reaching consumers regardless of the devices they use is crucial in securing their long-term business. The more devices they use, the more hours of content they will consume, and the more value they will gain from their subscription. In pursuit of these goals, the rate of innovation has accelerated considerably over the last few years," said Martijn Van Horssen, CEO at 24i Media. "Our acquisition of Vigour strengthens our ability to lead this innovation curve and provide attractive, cutting edge applications that empower our customers to deliver immersive experiences for their subscribers across any device."
24i's module-based technology framework allows broadcasters, operators and media companies to create and launch personalized streaming services on all screens, tailored to their needs. "Our platform is like a giant box of Lego, where customers can build their own apps with our state-of-the-art components, or they can purchase a fully completed package," Martijn commented.
"This is a tremendous step forward for 24i and our growth as a company. Bringing together our two companies ties directly to 24i's strategy to deliver valuable outcomes to our customers and to extend our leadership in the rapidly expanding market for personalized cloud TV and video app technology. Together, our strong engineering talent, leading technology and deep video app expertise will unlock incredible innovation, choice and value for customers around the world. We warmly welcome the Vigour team and its leading technology expertise to 24i," Martijn added.
"At Vigour we have always worked from vision and content," said Ramon Duivenvoorden, CEO at Vigour Duivenvoorden. "We are enormously driven by innovation to push the boundaries in the way we deal with technology and media in our daily lives. The acquisition by 24i offers us the opportunity to pursue this shared vision together with much more power, resources and scope."
The acquisition will result in a unique combination of Vigour's innovation, design, and engineering expertise with 24i's industry knowledge, platform and full range of solutions and technology. The combination will enable the creation of an integrated set of flexible products for creating cross-screen, personalized Internet TV applications, better positioning 24i to help companies rapidly develop OTT business models and capture new revenue streams in the high-growth and fast evolving market.
Together with newly acquired Vigour, 24i will be showcasing their feature rich set of TV applications at the NAB Show in Las Vegas, booth SU9301CM, April 9-12. Visitors are welcome to drop by the booth or book a meeting to discover how they can leverage 24i's next generation tools and technologies to stand out from competitors and capitalize on 24i's flexible and proven solutions.
About 24i Media:
24i Media is an industry-leading global TV app developer with an award-winning technology framework, that supports clients to develop and deploy apps faster and more efficiently on all devices, screens and TV platforms.
24i empower broadcasters, content owners and operators with future-proof and flexible tools to create and monetize personalized TV apps, while accelerating time-to-market and reducing cost. 24i's technology framework powers the digital experience for leading brands around the world, including RTL, Fox Sports, Sinclair Broadcasting Group, Globo, RTÉ, NPO, Fuse Media and many more.
24i Media, founded in 2009, is headquartered in Amsterdam, with offices in Los Angeles, New York, Buenos Aires, Madrid, Copenhagen and Brno.
For more information, please visit www.24i.com
About Vigour
Vigour helps media companies create groundbreaking video interfaces. The Vigour Video platform is sold as an out-of-the-box white label yet highly customizable frontend solution and uses a single codebase to deploy applications to all platforms. Unlike existing front-end solutions Vigour Video intuitively combines multiple screens and changes the roles of connected devices based on the context of the user.
24i Media contacts:
Brynhild Vinskei, Chief Markets Officer, 24i
Phone: +4529666420
Email: brynhild.vinskei@24i.com
Ruth Clifford (CCgroup PR for 24i)
Phone: +44 203 617 0139 ext 9224
Email: 24i@ccgrouppr.com
24i HQ:
Transformatorweg 78
1014 AK Amsterdam
The Netherlands
office phone: +31208202025