AdWeek named "Back to the Start" – featuring Dimension 3D Printer models – among top adverts
FRANKFURT, 7th December 2011 - (Nasdaq: SSYS) 3D printer maker Stratasys said its Dimension 3D Printing technology created several of the physical models for the popular stop-motion animated short "Back To The Start," which has garnered more than two million YouTube views and a nod from AdWeek as one of the top commercials of the year.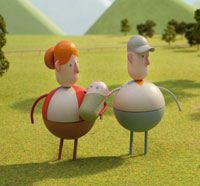 Farmer Family created on Dimension 3D Printer by Artem for Chipotle Back to the Start commercial
Produced for US-based Chipotle Mexican Grill by CAA Marketing Group and Nexus Productions, "Back to the Start" features a stop-motion animated trip from farm to table, punctuated by a soulful Willie Nelson cover of Coldplay's "The Scientist," specially commissioned for the video.
The film, by filmmaker Johnny Kelly, depicts the life of a farmer as he slowly turns his family farm into an industrial animal factory before seeing the error of his ways and opting for a more sustainable future. Both the film and the soundtrack were commissioned by Chipotle to emphasise the importance of developing a sustainable food system.
London-based special effects studio Artem, Ltd. produced the visual effects for the video, which has won praise for its creative approach to telling Chipotle's sustainability story. During the past five years, Artem has used the Dimension 3D Printer to produce models for dozens of clients, including the BBC, 20th Century Fox and Nokia.
"The beauty of using the Dimension 3D Printer for this project was that we could produce exact replicas of the animatic drawings, rather than guessing about sizes and details as we might have done with hand-sculpted models," said Bob Thorne, senior visual effects supervisor for Artem, Ltd.
With an approved animatic (a design file with rough-draft, full-motion sketches of proposed animated sequences), Thorne and his team had only to feed that data to the Dimension 3D Printer before producing and hand-finishing the models, most of which were human-inspired characters that required a high level of detail.
Using traditional production methods, these models might have taken days to sculpt by hand and finish to the director's specifications. But with the Dimension 3D Printer, Thorne and his team completed the process overnight and produced a tray full of models.
"Back to the Start" has won praise from creative arts leaders, sustainability experts and pop culture gurus for its fresh, engaging approach to the subject of factory farming and food quality. A "making of" video – which includes the Dimension 3D Printer – has garnered its own YouTube following, with more than 20,000 unique views.
Stratasys Inc., Minneapolis, is a maker of additive-manufacturing machines for prototyping and producing plastic parts. The company markets under the brands Dimension and uPrint 3D Printers and Fortus Production 3D Printers. The company also operates RedEye On Demand, a digital-manufacturing service for prototypes and production parts. Stratasys manufactures 3D printers for Hewlett Packard, which it sells under the brand Designjet3D. In 2011, Stratasys acquired 3D printer maker Solidscape Inc. According to Wohlers Report 2011, Stratasys had a 41 percent market share in 2010, and has been the unit market leader for the ninth consecutive year. Stratasys patented and owns the Fused Deposition Modeling (FDM®) process. The process creates functional prototypes and manufactured goods directly from any 3D CAD program, using high-performance industrial thermoplastics. The company holds more than 285 granted or pending additive-manufacturing patents globally. Stratasys products are used in the aerospace, defense, automotive, medical, business and industrial equipment, education, architecture, and consumer-product industries. Online at: www.Stratasys.com.
# # #
Dimension, FDM, Stratasys and RedEye are registered trademarks of Stratasys Inc.
Attention Editors: If you wish to publish reader-contact information, please use: europe@stratasys.com; Telephone: +49 (0)69 420 9943 0, Fax: +49 (0)69 420 9943 33, www.stratasys.com.
Forward Looking Statements
All statements herein that are not historical facts or that include such words as "expects," "anticipates," "projects," "estimates," "vision," "could," "potential," "planning", "intends", "desires", "assume" or "believes" or similar words constitute forward-looking statements covered by the safe harbor protection of the Private Securities Litigation Reform Act of 1995. Except for the historical information herein, the matters discussed in this news release are forward-looking statements that involve risks and uncertainties. These include statements regarding projected revenue and income in future quarters; the size of the 3D printing market; our objectives for the marketing and sale of our Dimension(R) and uPrint(R) 3D Printers; our support removal systems; and our Fortus(R) 3D Production Systems, particularly for use in direct digital manufacturing (DDM); the demand for our proprietary consumables; the expansion of our paid parts service; and our beliefs with respect to the growth in the demand for our products. Other risks and uncertainties that may affect our business include our ability to penetrate the 3D printing market; the success of our distribution agreement with HP; our ability to achieve the growth rates experienced in preceding quarters; our ability to introduce, produce and market consumable materials, and the market acceptance of these materials; the impact of competitive products and pricing; our timely development of new products and materials and market acceptance of those products and materials; the success of our recent R&D initiative to expand the DDM capabilities of our core FDM technology; and the success of our RedEyeOnDemand™ and other paid parts services. They also include statements about future financial and operating results of our company after the acquisition of Solidscape and anticipated benefits of the acquisition. Actual results may differ from those expressed or implied in our forward-looking statements. Such forward-looking statements involve and are subject to certain risks and uncertainties, which may cause our actual results to differ materially from those discussed in a forward-looking statement. Such risk factors include our ability to successfully integrate and market Solidscape products, our ability to retain management and our ability to protect and defend intellectual property. These statements represent beliefs and expectations only as of the date they were made. We may elect to update forward-looking statements, but we expressly disclaim any obligation to do so, even if our beliefs and expectations change. In addition to the statements described above, such forward-looking statements are subject to the risks and uncertainties described more fully in our current report on Form 8-K filed in connection with the completion of our acquisition of Solidscape and in our reports filed or to be filed with the Securities and Exchange Commission, including our annual reports on Form 10-K and quarterly reports on Form 10-Q.
For more information please contact:
Lisa Henshaw
Fourth Day PR
+44 (0)20 7403 4411
lisa@fourthday.co.uk