New Technology Provides Easy Integration and Exceptional Interactive Experience
Visitors to ISE 2016 can test drive a curved solution incorporating the new ultrafine Metal Mesh Technology at the 3M booth (No. 8-N350), where the company is demonstrating the impact this technology can have on the creation of futuristic AV displays.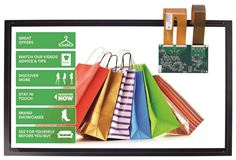 3M Multi Touch launch
ISE 2016, Booth 8-N350, Amsterdam, 9th February 2016 - 3M, the science-based technology company, has today announced the worldwide launch of its new projected capacitive (PCAP) Multi-Touch Systems using 3M proprietary ultrafine Metal Mesh conductor design. At just three microns wide, the ultrafine mesh conductor allows a more vibrant, high quality optical viewing experience when integrated into a Multi-Touch Display.
Other features include the ability to project through glass up to five millimetres thick, a bezel-free design and support for up to 80 simultaneous touch points for a more natural multi-user interactive experience.
This new technology overcomes design and optical challenges found in other PCT solutions by utilising advanced optical modelling techniques developed by 30 years of 3M science and service to the display industry. The result is a sensor designed to work universally on 2K and 4K applications across a range of sizes, including planar (curved) screens, while maintaining high image quality and touch responsiveness.
Furthermore, this innovative technology minimises moiré and sparkle –problems known in other PCAP systems – and offers both equipment manufacturers and display integrators a more durable, scalable and easy-to-integrate, Multi-Touch System that can be customised to meet customer-specific applications.
The new systems are for displays ranging in size from 15 to 65 inches and are designed for a broad range of commercial display applications, including digital signage, regulated gaming, retail, automotive showrooms, public venues, museums and hospitality.
"Our new sensor technology, based on proprietary ultrafine metal mesh design, allows developers and integrators to take a piece of glass and turn it into an exciting multi-touch and real multi-user customer experience," says Paolo Pedrazzoli, marketing operations manager, 3M Touch Systems EMEA. "This advanced technology builds on our existing and established range of PCAP multi-touch systems, which have been meeting the needs of system designers and users in various industries and applications for years. 3M has been developing leading-edge interactive solutions for more than 30 years and is renowned for its solid science and dependable support. The technology is supported by a network of both local and global 3M teams."
Notable features and benefits of the new 3M PCAP Systems include:
A conductive layer of ultrafine metal mesh design with ultra-fine three micron conductors
Customisation for 2K and 4K applications, across a wide range of sizes
Support for non-planar (curved) surfaces
Excellent image quality and fast responsiveness
Minimised moiré and sparkle
Ability to project through glass up to 5mm thick, with a bezel-free edge
Complemented by features within the controller:
Support for up to 80 simultaneous touch points supporting palm rejection at speeds of less than 10 milliseconds
One standard protocol for all sizes, making it easy to interface with different operating platforms - Windows, Linux, OSX and Android – regardless of system size
About 3M
At 3M, we collaborate and apply science in powerful ways to improve lives daily. With $32 billion in sales, our 90,000 employees connect with and serve customers all around the world. The UK and Ireland is home to one of the largest 3M subsidiaries outside the USA, employing 3,000 people across 17 locations, including nine manufacturing sites. Products manufactured in the UK include coated abrasives, personal safety equipment, adhesive tapes, industrial microbiology products, drug delivery systems, high-performance coatings and imaging systems. Learn about 3M's creative solutions to the world's problems at www.3M.co.uk or follow @3M_UK on Twitter.
3M is a trademark of 3M Company.
Media Contacts
Maxine Ambrose/Nicola Males
Ambrose Communications
maxineambrose@ambrosecomms.co.uk
+44 (0)1491 412944