Bracknell, UK, 23rd September 2009 - 3M, the diversified technology company, has announced the UK launch of 3M ACCR (Aluminium Conductor Composite Reinforced), a breakthrough in overhead power transmission. 3M ACCR is designed as a 'drop-in' replacement for existing electrical conductors and can as much as double the transmission capacity of the line. This could help the UK power industry to meet the government's renewable energy targets and overcome some of the issues of connecting offshore wind farms to the onshore grid, in particular delays caused by planning objections. 
For further information, please call 0870 6094639, email 3Melectrouk@mmm.com or visit www.3M.co.uk/accr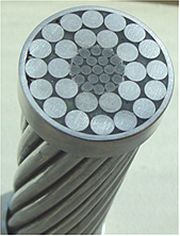 3M ACCR cross section
Helping to address renewable energy deployment
Ofgem has identified three main barriers to renewable energy deployment: a shortage of turbines; access to the high voltage transmission system; and planning objections (the last new extension of the National Grid was delayed by ten years due to planning objections - source: Ofgem Fact Sheet no 76).   3M ACCR helps address the latter two barriers and its launch in the UK coincides with the current £15 billion tender process from Ofgem and the Department of Energy and Climate Change for new cabling to connect offshore wind farms.

3M ACCR could help remote outposts of land-based power networks near a new offshore wind-farm to be upgraded from their low capacity, end-of-the-line role.  In turn, this could contribute to them becoming the start of a high capacity network flowing in the opposite direction to the National Grid.  By using existing transmission routes, no new land permissions would be required.
Existing limitations overcome
Most of the National Grid is based on steel core conductors which have design limitations on how much current they can carry.  Many of the existing transmission lines were designed and installed years ago and are now thermally constrained, which affects the amount of power that can be transmitted before performance is impacted.  With its advanced multi-strand aluminium composite core design, 3M ACCR has the strength and stiffness of steel core conductors, but weighs half as much and is able to continuously handle 210 degrees Celsius (and in an emergency 240 degrees Celsius), with considerably less sag than traditional conductors.
Using 3M ACCR can avoid the need for rebuilding or addition of new substations and it does not require the height of existing pylons to be raised in order to increase clearance levels.   This leads to minimal impact on the environment and helps to overcome the delays frequently caused by planning objections from pressure groups and land owners.
International track record
While new to the UK, 3M ACCR is an award-wining product that has already been installed in more than 20 power networks worldwide, including Brazil, Canada, the USA and countries in Asia  - and is currently being deployed and trialled across Europe.  3M ACCR was developed with the support of the US Department of Energy and with early contributions by the Defence Advanced Research Projects Agency.   Awards for 3M ACCR include an R&D 100 Award from R&D Magazine in the USA as 'one of the most technologically significantly products introduced into the marketplace'.  In the UK, it will be aimed primarily at supporting 110-400kV power transmission.
Other applications and benefits
In addition to enabling offshore wind farms to connect to national power networks, 3M ACCR has other benefits. 

These include:
Spanning long river valleys - due to its relatively light weight and low sag.  
Providing additional capacity in urban areas - where rebuilding existing infrastructures may be difficult. 
Helping to maintain service during line failure  – some power firms use 3M ACCR to support power outage contingency planning.  Since the conductor can carry double the capacity of existing lines, some lines can therefore be reserved as 'spare' to help continuity of service should the other lines fail for any reason.  
Tests
Tests carried out by the US Department of Energy at its Oak Ridge National Laboratory showed that 3M ACCR retains its integrity after exposure to temperatures even higher than the rated continuous operating temperature of 210 degrees Celsius and the emergency operating temperature of 240 degrees Celsius.  The core has the strength and stiffness of steel at half its weight, but with higher conductivity.

3M ACCR differs from traditional steel core cables in its use of high-performance, aluminium-based composite core wires.  Each core wire contains many thousands of very high-strength aluminium oxide fibres.  The ceramic fibres are continuously oriented in the direction of the wire and are fully embedded within high-purity aluminium.  The composite wire looks externally similar to traditional aluminium wire, but has mechanical and physical properties far superior to those of aluminium and steel. 
END
3M is a trademark of 3M Company.
3M – practical and ingenious solutions that help our customers succeed
3M is a $25 billion diversified technology company which, since 1902, has been creating innovative products that help make the world healthier, safer and more productive. Well known 3M brands include Scotch, Post-it, Scotchgard, Thinsulate and Scotch-Brite.
3M employs some 79,000 people worldwide and has operations in more than 60 countries. It produces thousands of innovative products for customers in dozens of diverse markets and its 45 technology platforms touch nearly every aspect of modern life - the company has applied its expertise in RFID technology to deliver biometric passports; it is using its understanding of the healthcare industry to provide hospitals with infection prevention and detection solutions; and in 2008 it launched the MPro range of pocket projectors.
The UK and Ireland is home to one of the largest 3M subsidiaries outside the USA, employing more than 3,500 people across 18 locations, including 12 manufacturing sites.
Products manufactured in the UK include coated abrasives, occupational health and environmental safety equipment, adhesive tapes, industrial microbiology products, drug delivery systems, high-performance coatings, secure documents and passport scanners.
For further customer information, please phone call 0870 6094639, email 3Melectrouk@mmm.com quoting reference 'ACCR-P1' or visit www.3M.co.uk/accr.
Media contacts:
Maxine Ambrose/John Farmer
Ambrose Communications
Tel + 44 (0) 1491 412944
Maxineambrose@ambrosecomms.co.uk