UK, 20th January 2009 – 3M, the diversified technology company, has announced its latest range of adhesive tapes designed for high temperature applications within the electronics industry.  All the tapes can withstand up to 260 degrees centigrade without any impairment, making them among the most heat-resistant tapes available today. Target applications include protection when soldering during printed circuit board manufacture.  There are also several tapes using an innovative backing that is designed to dissipate static, or to produce extremely low static charge during the un-wind and removal process.  Visit the site at www.3m.com/hightemperaturepcbtapes.  For further information please call 0870 6094639.
As well as masking or protecting surfaces during soldering processes, certain tapes within the range are water-soluble, so that they dissolve during the final cleaning process, leaving no residue.  Other tapes contain acrylic, a non-silicone adhesive in environments where there are concerns about silicone contamination.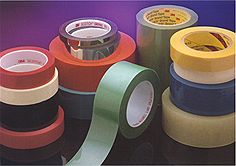 High Temperature Tapes
Some tapes are provided with a special liner to make them suitable for die-cutting to specified shapes.    Since the tapes are based on polyimide film and do not contain lead, they are compliant with RoHS regulations.  The range also includes tape designed specifically for cleanroom applications. All tapes are wound on to a plastic core.
About 3M in the electronics market
3M, the diversified technology company, provides a comprehensive range of solutions for the electronics market in the UK and Ireland, from components, tapes, adhesives, abrasives and films, through to chemicals.  Covering multiple applications – including medical device technology, ICT, PCB, semiconductor, automotive and military/aerospace – 3M supplies products that aim to address the challenges designers and manufacturers face today.
About 3M
3M is a $24.5 billion diversified technology company which, since 1902, has been creating innovative products that help make the world healthier, safer and more productive. Well known 3M brands include Scotch, Post-it, Scotchgard, Thinsulate and Scotch-Brite.
3M employs 76,200 people worldwide, producing thousands of innovative products for customers in dozens of diverse markets in some 200 countries. Its 45 technology platforms touch nearly every aspect of modern life - the company has applied its expertise in RFID technology to deliver biometric passports; it is using its understanding of the healthcare industry to provide hospitals with infection prevention and detection solutions; and its digital signage offerings are revolutionising the way businesses communicate with their customers, their employees and the general public.
The UK and Ireland is home to one of the largest 3M subsidiaries outside the USA, employing 4000 people across 18 locations, including 12 manufacturing sites. Products manufactured in the UK include coated abrasives, occupational health and environmental safety equipment, adhesive tapes, industrial microbiology products, drug delivery systems, high-performance coatings, secure documents and passport scanners.
3M is a registered trademark of 3M
Media contact details:
Ambrose Communications
Tel + 44 1491 412944
Maxine Ambrose/John Farmer
maxineambrose@ambrosecomms.co.uk