Including intelligent cabling, high density fibre patch panels and a new No Polish Connector
23rd June, Bracknell, UK - 3M, the diversified technology company, has launched additions to its data communications cabling products, enabling the company to provide complete solutions for the enterprise and data centre markets.  From network backbone to the desktop, the range encompasses Category 5e, 6 and 6A copper cabling and both single and multimode fibre.   New products include intelligent cabling systems and high density fibre patch panels, in addition to the introduction of an 'LC' version of the No Polish Connector, which was launched last year.  Further products will follow throughout 2009. www.3M.co.uk/telecommunications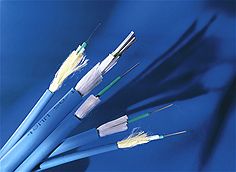 Fibre Cabling
Data cabling is one of the main elements within enterprise data networks and data centres.  The 3M range means that users, installers, systems integrators and consultants can specify an entire integrated cabling solution, all from a single source.
 
With these additions to the range, 3M intends to grow its market position in the UK and Ireland.  In mainland Europe, the company is already the fourth biggest provider of fibre connectivity and the sixth of copper connectivity cabling products.  3M provides a 20-year warranty on all its structured cabling systems and adheres to all the main industry standards. European customers include EuraTechnologies, Masterfoods and TV Norge. 
Says Rosemary McGlashon, European Technical Manager, 3M, "For many years, our products have been widely used within certain sectors of the UK, particularly military and petrochemical industries.   Now, with these new additions, we are expanding what we can offer in data centres and other enterprise installations where high-speed, extremely efficient data cabling is vital."
Range additions in more detail:
Intelligent Cabling
The range includes 3M's first foray into intelligent cabling, which is ideal for large and complex cable systems – such as those within data centres – where efficient management of connectivity is essential  for ensuring business continuity and managing costs.  Intelligent cabling replaces the need for manual records and intervention by providing 'realtime' information about the configuration of cabling connections, both reducing the time involved in manual record-keeping and removing the potential for human error.
Intelligent cabling enables remote asset management, which helps minimise the time and costs associated with 'moves, additions and changes' (MACs), by eliminating the need for unnecessary site visits to check configurations.  Enterprise network owners can also use their cabling assets more efficiently because intelligent cabling maximises  port and device utilisation.  The system can also be set to send alerts – for instance, if a patch cord is broken – to help the system administrator address any problems rapidly.
LC No Polish Connector (NPC)
3M has also introduced a version of its No Polish Connector for the 'LC' format.  The No Polish Connector, first launched last year in SC format, simplifies and speeds up the process of fibre installation.  By supporting the LC standard, 3M is bringing the benefits of the No Polish Connector to the indoor premises market where fibre is increasingly used, particularly within network backbones.  No power, resins or additional equipment are required on-site because the NPC system consists of just a factory-polished fibre and mechanical splice, and is installed using a simple tool.
 
The product's ease of use means that cable terminations can be completed successfully in less than two minutes, so it is ideal for high volume applications.  Both single and multimode LC options, as well as 10GB Ethernet applications, are supported.  Insertion loss is minimal at just 0.1 dB for multimode and 0.3 dB for single mode, at 1300nm.  The NPC meets   EIA/TIA 568-B.3 and IEC requirements and is RoHS-compliant. 
High density fibre cabling
3M has introduced a range of high density fibre LC connectors, enabling data centre owners to have a greater number of interconnects operating in typically cramped racks and cabinets, helping to address the need to support increasingly high data rates.  Presented in a 96 port configuration, these connectors can accommodate up to 48 lines in a standard 1U height, in either single or multimode fibre format. 
END
For further information, please visit: www.3M.co.uk/telecommunications or call 0870 6094639
3M – practical and ingenious solutions that help our customers succeed
3M is a $25 billion diversified technology company which, since 1902, has been creating innovative products that help make the world healthier, safer and more productive. Well known 3M brands include Scotch, Post-it, Scotchgard, Thinsulate and Scotch-Brite.
3M employs some 76,000 people worldwide and has operations in more than 60 countries. It produces thousands of innovative products for customers in dozens of diverse markets and its 45 technology platforms touch nearly every aspect of modern life - the company has applied its expertise in RFID technology to deliver biometric passports; it is using its understanding of the healthcare industry to provide hospitals with infection prevention and detection solutions; and in 2008 it launched the world's first hand-held micro projector, the MPro110.
The UK and Ireland is home to one of the largest 3M subsidiaries outside the USA, employing more than 3,500 people across 17 locations, including 12 manufacturing sites.
Products manufactured in the UK include coated abrasives, occupational health and environmental safety equipment, adhesive tapes, industrial microbiology products, drug delivery systems, high-performance coatings, secure documents and passport scanners.
3M, Fibrlok and Volition are registered trademarks of 3M
Press contacts:
Rachel Wyatt
3M
Tel 01344 857821
3Melectrouk@mmm.com
Maxine Ambrose
Ambrose Communications
Tel 01491 412944
3M@ambrosecomms.co.uk