Are you a Blaze or a Trojan Warrior?
The latest range of Speedglas welding masks from 3M, the diversified technology company, has arrived.  Designed specifically for the occasional welder who still values excellent protection, the light weight, user-friendly Speedglas 100 mask is ideal for those who need to weld occasionally such as plumbers, construction workers and the auto-trade, as well as hobby welders and DIYers.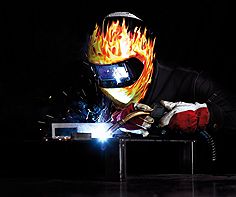 3M Speedglas Blaze Welding Mask
Exceptionally light in weight, but powerful in performance, the new mask offers all the premium qualities of the Speedglas brand at an affordable price. 3M's design team has created five unique versions of the shield - all you have to decide is whether you want to be wearing The Blaze, The Mechanical Skull, The Tribal or The Trojan Warrior – or you may want to be seen in The Chrome. 
Introducing the new product range, Caroline Walton, Senior Marketing Executive of 3M's Occupational Health and Environmental Safety Division, said, "3M's range of Speedglas welding masks is widely recognised as one of the best. Over the past year we have carried out considerable research and development in this area as we wanted to provide a solution for part-time, home welders and professional welders that gave them the same level of commitment to quality and protection as our premium range of Speedglas masks. We understand users' demand for comfort, vision and protection and have incorporated a number of design features in the 100 range that makes Speedglas one of the world's leading welding brands."
The Speedglas 100 Series includes the excellent 100V auto-darkening filter that provides uniform shading across the entire viewing area. The masks have five user-selectable dark shades from shades 8 to 12, with a light shade of 3. The Speedglas 100V mask also has three sensitivity settings: a normal setting used for most types of welding (both indoors and outdoors), a setting for when other welders are working nearby and a setting for a stable arc (e.g. TIG) welding. It also features a versatile headband, designed to be adjusted with one hand, making the mask adaptable to different shaped and sized faces and heads.
Speedglas welding masks and auto-darkening filters are based on more than 25 years of expertise in developing and producing extraordinarily reliable and durable equipment.
To find out more, log onto the new 3M website, developed as a complete resource for welders. Whether you want more facts about the different masks or to keep up to date with all the latest legislation you can access it at www.3M.co.uk/Speedglas.  Take our quiz to reveal the welder in you, and receive a 10% discount off a new Speedglas 100 mask when you buy online from 3M Select.
Ends
3M – Practical and ingenious solutions that help customers succeed
3M is a $24.5 billion diversified technology company which, since 1902, has been creating innovative products that help make the world healthier, safer and more productive. Well known 3M brands include Scotch, Post-it, Scotchgard, Thinsulate and Scotch-Brite.
3M employs 76,200 people worldwide, producing thousands of innovative products for customers in dozens of diverse markets in some 200 countries. Its 45 technology platforms touch nearly every aspect of modern life - the company has applied its expertise in RFID technology to deliver biometric passports; it is using its understanding of the healthcare industry to provide hospitals with infection prevention and detection solutions; and its digital signage offerings are revolutionising the way businesses communicate with their customers, their employees and the general public.
The UK and Ireland is home to one of the largest 3M subsidiaries outside the USA, employing 4000 people across 18 locations, including 12 manufacturing sites. Products manufactured in the UK include coated abrasives, occupational health and environmental safety equipment, adhesive tapes, industrial microbiology products, drug delivery systems, high-performance coatings, secure documents and passport scanners.
3M Centre, Cain Road, Bracknell, Berkshire, RG12 8HT
Tel: 08705 360036
www.3m.co.uk/speedglas