22nd October 2008, UK – Diversified technology company 3M has launched a free guide that explains to electronics and industrial users how the use of cleaning fluids is affected by legislation introduced to minimise environmental impact and improve worker safety.  The e-booklet aims to simplify understanding around recent and new legislation, including timescales and options.  Legislation covered within the guide include the Solvents Emissions Directive, the F Gas Regulations, HCFC-141B, REACH and RoHS. For more information, please visit: www.3m.co.uk/noveccleaning, 0870 6094639 or email 3Melectrouk@mmm.com
Said Mark Nursall, 3M Technical Sales Specialist, "As a company that has a strong emphasis on the environment, as well as occupational health and safety, 3M works closely with its customers to help address new rules and regulations, including chemicals used for cleaning and finishing."
 
For instance, 3M has introduced a range of Novec hydro-fluoro ethers (HFEs), which provide an excellent performance compared to more traditional cleaning fluids, lower cost of ownership and fall outside the scope of most legislation concerned."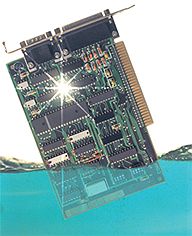 Novec Precision Cleaning
About 3M in the electronics market
3M, a diversified technology company, provides a comprehensive range of solutions for the electronics market in the UK and Ireland, from components through to chemicals.  Covering multiple applications – including medical device technology, ICT, PCB, semiconductor, automotive and military/aerospace – 3M supplies products that aim to address the challenges designers and manufacturers face today.
About 3M
3M is a $24.5 billion diversified technology company which, since 1902, has been creating innovative products that help make the world healthier, safer and more productive. Well known 3M brands include Scotch, Post-it, Scotchgard, Thinsulate and Scotch-Brite.
3M employs 76,200 people worldwide, producing thousands of innovative products for customers in dozens of diverse markets in some 200 countries. Its 45 technology platforms touch nearly every aspect of modern life - the company has applied its expertise in RFID technology to deliver biometric passports; it is using its understanding of the healthcare industry to provide hospitals with infection prevention and detection solutions; and its digital signage offerings are revolutionising the way businesses communicate with their customers, their employees and the general public.
The UK and Ireland is home to one of the largest 3M subsidiaries outside the USA, employing 4000 people across 18 locations, including 12 manufacturing sites. Products manufactured in the UK include coated abrasives, occupational health and environmental safety equipment, adhesive tapes, industrial microbiology products, drug delivery systems, high-performance coatings, secure documents and passport scanners.
Media contact details:
Ambrose Communications
Tel + 44 1491 412944
Maxine Ambrose/John Farmer
maxineambrose@ambrosecomms.co.uk