31st October 2014: 4see, one of the UK's leading compliance consultancy firms, has chosen Olive Communications to implement Vodafone's cloud-based communications solution, One Net. Like many businesses, 4see had separate contracts for mobile and landlines, with the two networks operating independently of one another. This was preventing the use of basic functionality such as call transfers, and their landline system was a legacy estate with serious limitations, which was beginning to inhibit customer experience and business growth.
To overcome this challenge, they selected leading business communications provider, and fixed-mobile convergence specialist Olive Communications to implement Vodafone One Net. The implementation took place in just one day with zero downtime, and combined 4see's mobile and desk phone functions into one system. 4see can now transfer calls to consultants - and see whether or not they are available. In the event a consultant is unavailable and the call is urgent, they can now propose the caller is put through to an alternative contact.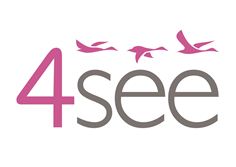 4see Logo
They're also able to introduce hunt groups to manage out of hours calls. Previously, emergency calls required that clients ring the main number, listen to a message giving the out of hours number, note the number and then call it, hoping that the on-call consultant picked up. Now out of hours calls automatically route through to the on-call consultant, and if they don't pick it up, the call is then automatically rerouted to another consultant – up to four in total.
Gavin Clarke, Operations Director, 4see Ltd outlines the difference One Net has made to his business: "When Olive first proposed the One Net solution I was slightly sceptical, as whilst our existing solution wasn't ideal, it worked, and my attitude was therefore "if it ain't broke don't fix it". However I'm delighted we investigated other options. The switch from our old system to the new one was straightforward and quickly and painlessly completed."
Clarke continues: "One Net is now making a real difference not just to our internal operations but most importantly to the client experience. The latter is crucial as we're undergoing a period of rapid growth and we wish to be seen as a more professional, joined up organisation."
Other communications improvements made possible through the cloud-based solution include the ability to seamlessly move office desk phones across any UK location via IP capability and to add new users as required to accommodate future growth. They have also introduced touch-tone IVR, which is enabling 4see to replace five published numbers (for the parent company and four sub brands) with just one direct dial.
The business benefits of upgrading to Vodafone One Net have been threefold: Customers no longer need to wait anxiously for a consultant to call them back in what is often a time critical situation. Secondly, 4see's archaic legacy system has been replaced with a robust solution (zero downtime to date), with a 99.999% system uptime target, 24 hour remote monitoring of connectivity and equipment, and two minute response service level agreements for line connectivity. And finally, while the solution is far superior to 4see's previous set up, it is cost neutral.
Martin Flick, Chief Executive, Olive Communications, said: "We're seeing a real take up from customers evaluating and subsequently implementing Vodafone One Net through Olive. It suits growing businesses, especially those who are already on the Vodafone mobile network, extremely well. It allows them to converge all of their fixed line and mobile communications so they'll never miss a call, and offers them a number of additional benefits to help their business reach their full potential. And as 4see have experienced, it's a fast and painless upgrade that delivers immediate impact."
-ends-
Contact Details
T: 0203 675 3333
E: pr@olive.co.uk
About Olive
Olive is the UK's fastest growing business communications provider and consultancy, operating across the four cornerstones of IT infrastructure: voice, data, mobility, and applications.
One of the Sunday Times' Hiscox Tech Track 100, Olive provides innovative and integrated communications solutions for the UK's best-known businesses including BPP, Cath Kidston, Mace and National Geographic.