A disgraceful 1 in 4 women have not received a gift at all from their partner…but if a man buys the perfect gift he is more likely to have sex with his partner!
20 November 2013: A nationwide survey on presents received by women for AskHerFriends.com has found that nearly half of UK women (49.9%) will be disappointed on Christmas Day because their partner will fail to buy them a perfect gift. Windscreen wipers, a bag of compost, a cement mixer and even a beard trimmer were mentioned by women as some truly terrible gifts given by partners. It is not surprising then that nearly 1 in 2 women (42%) have ditched the partners who gave them awful gifts – a note of caution to anyone buying a present for the woman in their life. However, buy the perfect gift and 1 in 12 women (8%) were more likely to have sex with their partner. The independent survey for AskHerFriends.com was conducted across the UK by Censuswide who interviewed nearly 1700 women.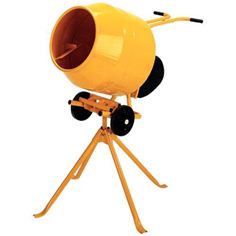 Cement Mixer
1 in 4 women (23.4%) have never received a gift at all from their partner and regionally nearly a third of women (29.3%) in the Midlands have never received a pressie from their partner – the highest across the UK. Over half of women in Wales (52.2%) said that their partners always bought great gifts - this was lowest in Scotland at 1 in 3 (31.2%). Women in Yorkshire were the most generous as 24% bought better presents than what they received from their significant other. If you were buying a gift for the woman in your life in Northern Ireland – respondents there were 70% more likely to have sex with the person who bought them the perfect gift than the national average.
Nearly 1 in 5 married women (16.9%) confided that their husbands really did not know them when it came to buying gifts – one woman even disclosed that her husband accidently gave her the gift he intended to give his mistress! 5% of married women also revealed that they pretended to like the gifts their husband gave them. In contrast almost half of women who are cohabiting (49.2%) felt their live-in partners always bought great gifts.
AskHerFriends.com was set up by Ben Blomerley who bought his girlfriend a worm farm and she was soon his ex-girlfriend! It was hardly the most romantic gift and Ben decided that there had to be a better way of choosing gifts for women. This was the inspiration behind creating AskHerFriends.com, which brings together the best of British products, retail technology and social networking to help men select the perfect gift for her.
"I'm no stranger to buying awful gifts myself and have learnt the importance of buying the perfect gift the hard way." admitted Ben Blomerley. "Our survey also found that 43% of women have been asked by their partners what gifts they wanted – although that's the safe option for guys it isn't very romantic! We believe that women would appreciate more thought from their men and that's where AskHerFriends can help! It should be a no brainer, but before buying her Christmas pressie, why not seek our assistance and even consult her friends on the gift you are planning on buying? That's what you can do at AskHerFriends.com. They'll know her well; so can tell you whether you are likely to have a merry or miserable Christmas! One woman who was interviewed for our survey revealed that she received a perfume she was severely allergic to – asking her friends before buying that gift would have been a good idea!"
ENDS
About AskHerFriends.com
AskHerFriends.com is an ecommerce marketplace dedicated to finding beautiful and desirable gifts for women with a little help from her friends. It features a large selection of high quality products sourced from some of the world's most unique designers and suppliers. AskHerFriends.com brings together the best of crowd-sourced ideas, social networking and retail technology to help people select the perfect gift for the women in their lives - every time, for every budget.
AskHerFriends.com helps people to choose the perfect gift in a stress-free manner by overcoming the fear of getting it wrong. Visitors to the site are asked to answer a handful of questions including their relationship with the recipient, her typical style, hobbies and interests. By analysing these answers, AskHerFriends.com is able to suggest a selection of thoughtful and well-matched gift ideas. AskHerFriends.com also works with a range of bloggers who recommend their favourite gift ideas providing extra confidence to the purchaser. For those who need even more reassurance, we can help them to Ask Her Friends which item they would choose from his short list of ideas.
For images and editorial information please visit: press.askherfriends.com
Media Contact
Chevaan Seresinhe
Sonus PR for AskHerFriends.com
Email: Chevaan.seresinhe@sonuspr.com
Tel: +44 20 7300 7216