13 January 2014 – This year's Sustainable Bio Awards will recognise the tremendous innovation that is taking place in the development of truly sustainable bio-based fuels and products. The Sustainable Bio Awards event is where the pioneers and innovators of the bio-based industry are recognised for their outstanding work. From biofuels to face cream, from feedstocks to financing, the industry will gather to celebrate the advancements made throughout 2013.
Categories have been specifically designed to represent the entire bio-based industry value chain, and are as follows: BREAKTHROUGH TECHNOLOGY OF THE YEAR, COLLABORATION OF THE YEAR, BIO-BASED PRODUCT INNOVATION OF THE YEAR, BIO-BASED STRATEGIC FINANCIER OF THE YEAR and also INDUSTRY CHAMPION 2014.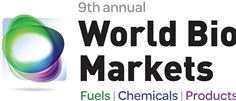 World Bio Markets Logo
With so many projects, products and organisations worthy of these deserving accolades, nominations are being accepted up until midnight on January 31 (GMT).
"2013 was an exciting year for the bio-based industry as it has continued to move from strength to strength and the Sustainable Bio Awards are the perfect showcase of this," said Nadim Chaundry, Global Bio Markets Series Founder. "This is the place where companies and individuals are able to present their work to the wider bio industry and to be recognised for their efforts. We are expecting a strong number of entries this year and our judges are already looking forward to reading and evaluating the submissions from so many exciting innovations and projects."
The judging panel that will oversee the selection of winners is made up of many highly regarded individuals representing a true cross section of the biofuels industry. Rob Vierhout, President of ePure will provide his market insight and is joined by Kyriakos Maniatis, Head of Unit, New Energy Technologies, DG Energy, European Commission, providing a policy-led perspective. Feedstocks, iLUC and sustainability are represented by Thierry de l'Escaille, Secretary General of the European Landowners Organisation and the final member of the panel is Hasso von Pogrell, Managing Director, European Bioplastics, representing the bio-based chemical and products industry, and the final member of the panel is Jonathan Burbaum, ARPA-E Program Director, US Department of Energy who will be providing the US perspective on the industry.
Candidates are invited to make their nominations today to ensure the true leaders of the industry are crowned at the awards ceremony on March 5th 2014.
The Sustainable Bio Awards will take place alongside the 9th annual World Bio Markets at the RAI in Amsterdam, a well-established, integrated discussion and networking forum for the global bio-based fuels and chemicals industries.
Previous Sustainable Bio Awards Winners include: * Beta Renewables * Solazyme * Novozymes *Abengoa * Boeing * DuPont * POET/DSM * UPM Biofuels * Envergent Technologies * Bio Architecture Lab * LS9 * Kiverdi * Renmatix * Reverdia * Genera Energy * Virgin Atlantic
-MORE INFORMATION-
To find out how to make nominations and for further information on the Sustainable Bio Awards go to www.sustainablebioawards.com
For all conference testimonials and to find out more about World Bio Markets 2013 go to www.worldbiomarkets.com
About Green Power Conferences
Green Power Conferences is the market leader in renewable energy conferences. Since 2003, over 22,000 delegates have attended more than 200 conferences, exhibitions, workshops and training courses providing strategic business intelligence to the renewable energy and sustainability industries. Green Power's expertise lies in producing high quality, interactive events that provide ample networking opportunities for delegates, sponsors and partners. They specialize in renewable energy and produce a broad portfolio of events for the wind, solar, biofuels, biomass, biogas, geothermal, ocean energy and climate finance markets. More information and a full list of current conferences is available at: www.greenpowerconferences.com.
Media Contact
Bryony Abbott
Marketing Manager
Green Power Conferences
Bryony.Abbott@greenpowerconferences.com
Sheila Lashford
Proactive International PR
Sheila.lashford@proactivepr.com
Tel: +44 (0) 1636 812152